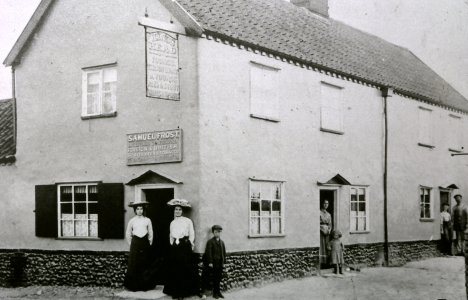 c1910
Licence not renewed at the East Harling Brewster Sessions held Monday 12th February 1906. In the opinion of Superintendent Lowe the licence was not required since there was another licensed house 197 yards away and six fully licensed houses within 411 yards.
The Bench were advised that the house did good trade and that the business over the last three years averaged 90 barrels of beer, 135 dozen bottles of beers and 42 gallons of spirits.
Licence referred to Compensation.
On Thursday 21st June 1906, a representative of the justices said that the house was inferior to the other local houses and there was little stabling. It was a small house and food was not provided for the visitors. Samuel Frost confirmed that he had been at the house for 18 years and as a rule he sold 2 barrels of beer a week and a gallon of spirits, besides bottled beers. At harvest time his trade doubled.
Messrs. Youngs, Crawshay and Youngs gave the sales as 96
½ barrels and 136 dozen bottles of beer and 42 gallons of spirits per year.
The local miller, Mr. Thomas Lawrence stated that it was the best house in the parish for the class of customer for whom it catered.

Licence renewed.
34 barrels of draught beer
& 26 barrels (equivalent) of bottled beer
were sold in the final year of trading.
~