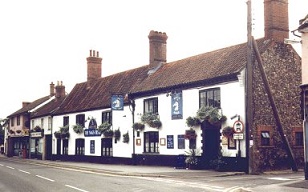 1998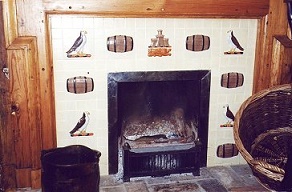 The Lacons tiled fireplace of distinction.
For Sale by Auction Thursday 20th April 1797.
Part of an Estate, to be sold in 17 Lots, including the Manor House.
A large, newly erected room at the Nags Head was fitted up in a tasteful manner on Thursday 6th May 1819 to celebrate the birthday of the Earl of Albermarle. 180 persons assembled at half past four for an excellent dinner.
Those present included General Sir Ronald Fergusson, F. Keppel Esq, Mr. Coke and many other dignitaries. Lord Bury thanked those present for the very kind manner that his father's health had been given....... Some twenty Toasts were given and at about ten o'clock the Hon. General quitted the chair. Mr. Coke excused himself through illness but the many excellent songs and glees carried on unabated till a late hour. (Public Dinners had been held the previous week at Reepham, Castleacre, Titteshall, Attleborough and Wells, by personal and political friends of Thomas William Coke, Esq. to celebrate the Birthday of that worthy Representative and highly respected Gentleman. At each event the health's of Mr. Coke and of Lord Albermarle were given and received with enthusiastic applause by all present.)
Rent in May 1837 was £17 per annum.
On Wednesday 4th January 1843, one Robert Spurling was charged with stealing the great coat belonging to innkeeper William Watson of East Harling. The police finding the coat in the possession of the prisoner, he was committed to one month in prison.
Part of the neat Household Furniture, Trade utensils and other effects were to be Sold, Friday, 14th April 1899, by direction of the Executors of the late Charles H. Howlett. Also for sale were a Bay Mare and gelding, an Alderney Cow (forward in calf), 2 Sows and 2 Store Pigs, Waggonette and 2 Luggage Carts, Candle Machine and Rods, Etc....
On Monday 29th October 1934, Mrs Blanche Brooks applied for a maintenance order to be made out against her husband, Bertie. He had promised to pay her 12s 6d a week, but had ceased to do so. He was earning £2 per week and Mrs Brooks was in receipt of 10s a week plus 7s 6d for her two children aged 15 and 7.
(In December 1936, Bertie Edward Brooks was described as an Army pensioner living at 13 Jubilee Avenue, Harling.)
Refurbishment carried out Spring 2007
providing a Public Bar, Lounge Bar,
Sports Bar, Restaurant, Beer Garden
& Accommodation.
Closed December 2009
Punch Taverns confirm April 2010 that house is for sale.
`We are currently looking for the right partner who can work with us
to take this business forward.'
Reopened by May 2011 - but renamed the GEORGE & DRAGON.