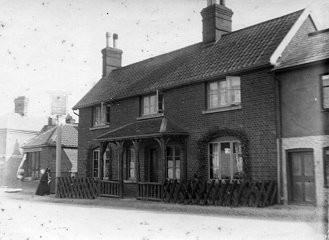 c1897
Lot No. 31 in the sale of the Diss Lower Brewery Thursday 30th March 1876. Purchased by Youngs, Crawshay & Co.
Alban Osborne owned the Saddlers & Harness making shop seen to the left of the public house. A newspaper article dated 4th June 1914 records the death of Mr Osborne. Apparently he accidentally shot himself in the back of the head whilst walking backwards through a hedge. The inquest was held at the White Lion and the jury were satisfied that a branch had caught his gun trigger.
Licence unconditionally renewed at the East Harling Brewster Sessions held Monday 13th February 1906.
Licensee Mr. Duncan advised that trade had increased somewhat since he took the house in October 1905. Brewers Youngs, Crawshay and Youngs confirmed that trade over the past three years had averaged 109 barrels and 390 dozen bottles of beer annually. A good trade for a country house and it was required by the parish.
The decision to renew the licence was postponed at the sessions held Monday 14th February 1916. It was considered that the division had a redundancy of public houses. The Prince of Wales at Great Ellingham and the Angel at Attleborough were the other houses included in the list to be determined.