Licensees :
-
WILLIAM KINGSBOROUGH
from December 1792 - 1797
-
HENRY BALLS
Died 17th December 1821 "For many years master of the Dog Inn"
c1810 - 1820
-
HENRY BUXTON
(age 44 in 1851
& farmer 50 acres)
Died Q4 1855
1826 - 1855
Mrs MARY BUXTON
age 59 in 1861
& farmer 94 acres
(Died Q1 1879 - age 78)
1856 - 1875
FREDERICK BUXTON
(Eldest son of Henry Buxton - Married Martha Trory 1st June 1880)
1875 - 1877
ANDREW PENMAN
& farmer 96 acres 1881.
Wife Maria died suddenly 8th March 1881 - age 48
Married Naomi Rosanna Annison 3rd August 1881.
(Died Q4 1902 - age 74)
1879 - 1881
Tuesday 16th August 1881 - Charged of selling intoxicating liquors at about 20 minutes past 12 on the morning of 27th July. Some 40 persons had been found in the house. It was disclosed that it was an Oddfellow's anniversary meeting and Mr. Penman had taken out a 2 hour extension to his licence, to 30 minutes past 12. Charges dismissed, but one of the customers, Samuel Goldsmith was found guilty of being drunk on 26th July and was fined 2s 6d including costs.
ISAAC RICHARD BUDDEN
1883 - 1885
WALTER HOWARD RANDALL
Age 55 in 1891
1888 - 1896
WALTER BRIDGES
1900
ROBERT BRIDGES
Age 54
1901
JOHN ROBERT BRIDGES
1904 -1908
ROBERT JOHN BRIDGES
Died March 1916 - age 68
1911 - 1912
Mrs ELIZA BRIDGES
1916
HARRY J MANN
(Died December 1937 - age 72)
1922
GORDON EDWARD GREENWOOD
(Died December 1974 - age 78)
1925, 1929
HERBERT SIDNEY TUCK
1933 - 1937
-
CHARLES EARL
c1962
-
MIKE KERRIDGE
1989
-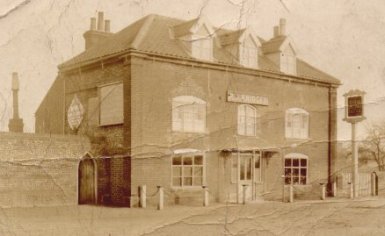 R J BRIDGES licensee - c1912
The diamond shaped enamel sign on the left hand wall advertises
Mann Egerton Motors, Prince of Wales Road, Norwich.
Referenced 1785.

Mr. W. Kingsborough announced 8th December 1792 that having left the Sprowston Blue Boar, he had taken on the Easton Dog and `Begs leave to return his sincere thanks to his former friends for their favours and informs them that he has now laid in a fresh stock of the best Wines and Spirituous Liquors, which he is determined to sell on the most reasonable terms, and the continuance of that support which he has experienced shall be retained by every intention in his power.'

William Kingsborough announced 9th September 1797 that the Annual Easton Sheep Shew would be held here, as usual, on 21st September. Dinner served at One o'clock.

Mrs Mary Buxton had previously been married to Thomas Blyth and by that marriage had four sons, one of whom was named Edgar. That son was father to Catherine, Alice, Frederick and C. E. Blyth, of the respective ages 12, 10, 7 and 4 years. Two of whom were inmates of the Orphan's Home, the other two were boarded at the expense of the Guardians of the Poor. Mrs. Buxton, a widow and grandmother of the four children was summoned Tuesday, 9th May 1876 to show cause why she should not be made to maintain them.
Mrs Buxton had resided at the Dog for fifty years and was doing a good trade and a rent of £130 per annum was being paid. She had 6 children by her first marriage and 9 by her second. She believed 10 of them were still alive. Her deceased husband had left "a good bit of debt" and by helping her children "a little bit", she had no money left. The rent was proven to be paid over the previous two or three years, by her son, Frederick.
It was said that it was a great pity that such a respectable old woman should have been put to the inconvenience of being brought before the Guardians.
Case dismissed by the Magistrates.


Closed by 2000 and operating as a restaurant.