Licensees :
-
-
ROBERT CROSS
See opposite
here 1778
HENRY MASON
1789 - 1794
HUGH DADE
(Previously at Red Lion, Fakenham)
1797
WILLIAM MAYES (or family member)
*1805
RICHARD MAYES
1820
WILLIAM MAYES
(Died Q3 1837 ?)
1830 - 1834
ANN MAYS
1836
WILLIAM MAYS
& farming 32 acres 1851
& postmaster 1858
(William Culyer, innkeeper also in residence 1841)
(Died Q1 1883 - age 79)
1841 - 10.1860
ROBERT MALLOWS
age 32 in 1861
1860 - 1863
WILLIAM PITCHER
1864
WARD PITCHER
& butcher
1865
CORNELIUS WALTER REEVES
(Died Q3 1883 - age 59)
1868 - 1875
EDWARD WILLIAM HENDLE
Age 49 in 1901
1877 to 1904
FREDERICK EDWARD HENDLE
Age approx 26
(Not in licence register but as given by Kelly. Probably acting as manager)
1904
GEORGE RIVETT
age 67 in 1911
27.06.1904
JOHN RAMM
28.10.1912
ALICE HANNAH RAMM
27.10.1913
HERBERT EDWARD HAWKER
(Died December 1930 - age 72)
26.10.1914
JOHN WILLIAM HUNT
27.04.1925
PETER DUNEGAN
26.07.1926
WILFRED JORDAN
31.10.1927
WATSON SAMUEL FREEMAN
Died September 1939 - age 72
28.12.1931
CARRIE FREEMAN
25.09.1939
CHARLES ROBERT THORPE
12.05.1941
ROBERT ERNEST HAMMOND
29.03.1943
HUGH MILLER STEVENSON ADAMS
14.01.1974
-
-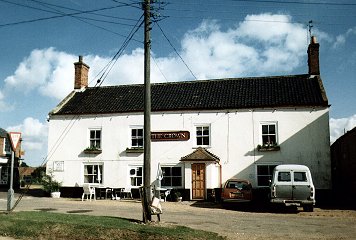 1996

Also operated as a Post Office (1846)


An Auction sale held at the Red Lion Fakenham on 22nd October 1778 included : Lot 1.- All that Freehold Messuage known by the Sign of the CROWN situate in East Rudham now in the use of Robert Cross (Or his undertenants) at a yearly rent of £24 10s.
For sale by auction 27th July 1852, comprising :-
Basement - Wine & Beer Cellars.
Ground - Commercial Room, Dining Room, Keeping Room, Bar with Storeroom and Pantry, Kitchen with small Bar, 2 back Kitchens with Pump, 2 back Rooms (1 used as Carpenters shop).
Upper Floors - 8 Sleeping Rooms with Closets and Landing and 4 Attics.
Also - Enclosed Yard with 47ft x 18ft 6in Club Room, with Loose Box, large Chaise and Harness Houses underneath, also Large Brew House with requisite Outbuildings.
`All for sale by William Mayes who, with his family, has been in Profitable Trade at the premises for 47 years'.
For Sale by Auction Thursday 28th June 1860 with possession from Michaelmas. Sale at the instruction of the proprietor owing to his retirement from the trade. The house being in the same family for nearly 60 years and offered an extensive Beer Trade, beside a large Wine and Spirit Business, which with the adjoining Brewery presented a highly remunerative opportunity.

Robert Mallows announced 13th October 1860 that he had taken the Inn.

Offered To Let July 1863 with Occupation on or before Michaelmas 1863. With compact Brewery and situated within seven miles of a Railway Station.
"None need apply who are not well adapted to conduct the same."

On Monday 25th August 1873, Cornelius Reeve was charged by Police-constable Smith of being on 8th August, drunk in his own premises.
It was argued that since the said offence had taken place after the house had really closed, the house had ceased to be a public-house and so, to all intents and purposes, it was Mr. Reeve's own house, indeed an `Englishman's castle' and he was entitled to do as he pleased and drink as much as he liked. The case was dismissed, but hoped that there would be no similar complaint.
Named Norfolk Dining Pub of the Year in the 2010 Good Pub Guide
(Published 2009)