Licensees :
-
-
EDWARD GILHAM
(according to Kelly 1883)
Age 60 in 1881
(Died Q3 1903 - age 81 ?)
1875 - 1883
Monday 30th August 1875 - Fine of £1 and 17s costs for permitting drunkenness in his house on 22nd July.
JAMES GILHAM
according to White
(Brother of Edward)
1883 - 1885
JOHN DANN
& dealer
(Died June 1919 - age 73)
* 1888 to 1909
CHARLES EDWARD WRIGHT
25.10.1909
JOHN ERNEST BAMBRIDGE (undated)
by 1910
MATTHEW EMPSON
30.10.1911
JOHN ERNEST BAMBRIDGE
(Died June 1965 age 83)
25.04.1921
J L SPARKES
(Brewery representative)
09.09.1963
On Tuesday 27th August 1901, John Dann, who lived with his father at the George Inn, pleaded guilty to using abusive language on the platform of the Midland and Great Northern Railway Station on 20th June. He denied assaulting the committee's detective, George Henry Webb, at the same time. He said he merely pushed him with his fist. He was fined 2/6d on each case and costs amounting to £1 15s 2d.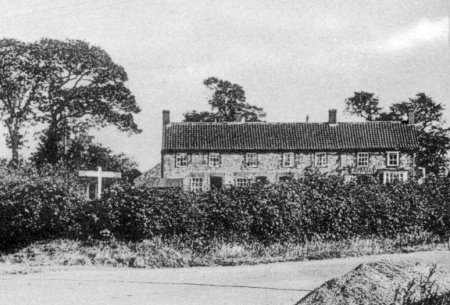 The George is at the extreme right hand end of the terrace. A sign advertising Bullards Ales is affixed below the second window from the right.


Closure agreed at First Joint Committee Meeting of Bullards and S&P 29th May 1962.
Sales given as 33 barrels in previous year,
Licensee said to be 75 to 80 years of age and to have been a tenant for 41 years.
Penny In The Hole once played here and two seats for playing were in evidence in 1950's.

Trading ceased 09.09.1963