Licensees :
-
DAVID MAITLAND
1789
SILVESTER POOLEY
1794
GREGORY FAUX
1832 - 1836
ROBERT CHILVERS
age 51 in 1851
farming 100 acres
1841 - 1858
JAMES CLARKE
age 48 in 1861
1861 - 1863
ROBERT CASTLETON
& farmer
1864 -1865
JONAS CASTLETON
age 45 in 1871
& farmer
1868 - 1872
June 1872 - Fine of £2 and £1 3s costs for permitting drunkenness in the house on 27th April.
THOMAS EDWARDS
(Died Q1 1881 - age 71 ?)
1875 - 1877
FREDERICK HUTSON
age 48 in 1881
& farmer
1879 - 1883
WILLIAM TILLOTT
1888 - 1890
CHARLES WILLIAM TILLOTT
& coal dealer
age 69 in 1901
Died Q4 1906 - age 74
1890 - 1904
FRED WILLIAM TILLOTT
age 33 in 1911
& coal dealer
1908 - 1916
WILLIAM HERBERT KELLY
1916 - 1922
WILLIAM CARVER
Died March 1938 - age 57
1922 - 1937
-
EVAN ECKLEY
here to 09.1954
FREDERICK WILLIAM CANNELL
Went to BEAR, Attleborough
20.09.1954
ARTHUR WILLIAM NICHOLLS
23.07.1957
.............. PIDD
c1962
P. C. NICHOLS
to 1998
BRIAN ASHMAN
1998 - 2002
-
MARTIN & KAREN TURVER
07.2006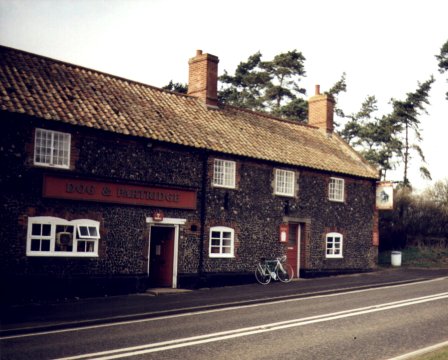 1995

Grade II listed building.

Appears on Bryant's 1826 map
Following a cricket match by the members of the Young Men's Friendly Society, Wrentham v Garboldisham, on Thursday 25th September 1890, an excellent supper was provided by William Tillott. Scores for the cricket match were Wrentham 44, Garboldisham 85.
Threatened with closure November 2002.
Application to convert into a private dwelling refused 23.05.2003.

RE-OPENED as public house JULY 2006

Plans to convert to residential dwellings refused June 2019.
Application granted at Appeal January 2020.

A residential property only by October 2020.