Licensees :
-
JAMES LAWS
1788 - 1794
-
-
JAMES WARD
age 52 in 1851
(Farmer & grocer in 1861, wife Susan died Q1 1863, remarried 40 year old Rebecca Mutton 1875, died Q4 1882 - age 87)
1833 - 1856
WILLIAM BROWN
Died Q4 1876 - age 63
1858 - 1876
Mrs MARY ANN BROWN widow
(Died Q1 1902 - age 89)
1877 - 1883
JOHN E CALTHORPE
(Died Q4 1914 - age 54)
1888 - 1892
JAMES PUMFREY
& shopkeeper
Died Q4 1914 - age 67
1896 - 1914
REGINALD PUMFREY
Died December 1948 - age 67
1915 - * 1948
THOMAS CHARLES REYNOLDS &
GLADYS ALICE REYNOLDS
1949 - 1956
FRED POWLEY
1958 - 1978
MICK & DAPHNE HARRISON
1978 - 1984
JOHN & JANET SMITH
1984 -
DAVID & JULIE JAMES
.....
JACKIE ......
......
MALCOLM & .........
.......
JOHN & CAROL BUCK
to closure
Thanks August 2009 to Sharon Raven (Daughter of M & D Harrison) for the update
.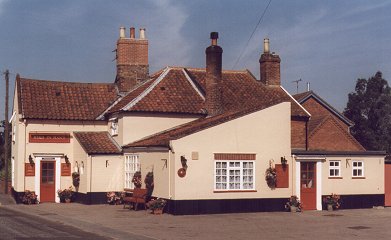 1996

Included in Loddon & Clavering Register taken 21st September 1789.

Appears on Bryant's 1826 map.
No change recommended at First Joint Committee Meeting of Bullards and Steward & Patteson 29th May 1962

Sales for previous year given as 122 barrels.
CLOSED and operating as the OLIVE TREE Italian restaurant by 2009.