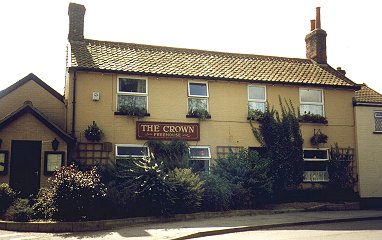 1996
Dates from c1750
According to Cann & Clarke documentation dated 26th May 1876 the house was previously known as the
BELL
, although recorded as the
CROWN
as early as 1789.
All the Household Furniture and Effects were to be Sold by Auction, Monday, 6th July 1896, since Mr. Barnard was leaving the Inn.
Items included Chairs, Tables, 2 American Clocks, Bagatelle Board, Fenders and Fire-irons, 1 dozen Spittoons, Cutlery, Beds, Copper Boiler, &c. &c.
Extended bar opened Autumn 1989
Re-opened Friday 14th November 2011 following a six month closure.

House awarded Asset of Community Value status July 2013.