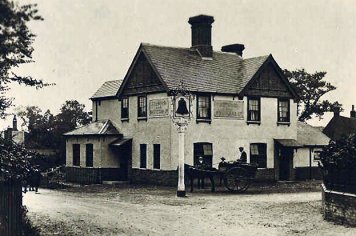 c1910
The
BLUE BELL
1789 & 1836
Entry in 1794 register reads HoBell ?
~
For Sale by Auction Wednesday 13th July 1842.
(by Bell's Brewery)
Lot 2 of 15, which included seven other public houses.
(Four of which were in Suffolk)
In an Auction to be held Wednesday 6th December 1820, of 10 Lots, this was Lot 9. One of six Independent Inns and Ale-Houses in the sale.
Then in the occupation of John Lovely.
~
On the night of Thursday 16th May 1844, the house was `burglariously broken and entered'. One violin, one shawl, a quantity of brandy, rum, black beer, cigars, tobacco, tea, a quantity of German silver spoons and about 7 shillings in copper money was taken.
On the following Friday, Superintendent L. H. Smith of the county police succeeded in apprehending two of the most notorious characters in the county, J. Nicholls and S. Bowles. After a diligent search the violin, shawl, brandy and rum etc. were found buried in the sand on the North Denes, Gt. Yarmouth.
~
New house, as shown above, built during 1912.
~
Damaged by enemy action during WWII, date not given in S&P records.