Licensees :
-
JOHN PORTER
here 1781 - 1794
Ө
JOHN BAILEY
1798 - 1799
-
RICHARD RUDD
1836
Robert ? RUDD
1839
JOHN WELTON
age 50 in 1851
& baker
1841 - 1868
Mrs CHARLOTTE WELTON
age 65 in 1869
1869
ROBERT BURGESS
& harness maker
1871 to 1883
JOHN HINSLEY
(also as Hensley)
05.05.1883
MARY ANN HINSLEY
06.03.1899
EDWARD GRAVELING
Age 39 in 1911
23.06.1902
WILLIAM VALENTINE ALLEN
& farmer at Lowes Farm
14.10.1932
ALFRED JAMES CLARKE
13.10.1950
RONALD FRANK THOMAS GIBBS
23.10.1953
JACK DOWSE
25.03.1955
ERNEST BOND
01.03.1957
-
-
SEAN & PENNY CHAPMAN
June 2014
BEN HANDLEY
General manager
June 2017
Map ref : TG 070351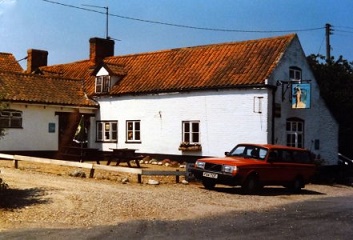 July 1994
Sign showing Bluebells.


A flint cottage dating from the 17thC and recorded as an Alehouse.

Described in 1726 as a long rectangular building.
Including some acres of land, a barn & stables.

Supplied by the Letheringsett Brewery from 1781 to about1796.

Jane - wife of John Porter was buried - April 5 1797

Shown on Faden's 1797 map.

Supplied as a freehouse by Steward & Patteson (for the first time) in the year November 1845 to November 1846.

Beer was served straight from the cellar until the first bar was installed in the 1970's.

Part of the Stody Estate .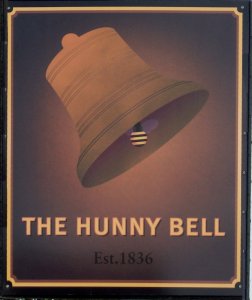 The sign in 2008.
Showing "Established 1836", but the Bell / Bluebell is named from at least 1781.
(The house is recorded as the BELL in 1789, 1836 and at later dates , but as the BLUEBELL in 1818, 1850 and at various other times to at least the 1990's)
Known as the HUNNY BELL and trading as such by 2008.

Closed early 2017.
To re-open July 2017 under new owners (leasehold).