Licensees :
-
Ө
ISAAC SMITH
1744
THOMAS SCRAPE
1774 - 1778
Mr RUMP
1778
JOSEPH HASTINGS
1778 - 1794
Ө
ROBERT RIDDLE
1795 - 1796
ROBERT SHEPHERD
c1798 - c1800
Mrs. SHEPHERD
Died Sunday 21st February 1819 - age 64 - late of the White Horse)
Mr. J. Bond, son of Mrs. Shepherd, died during the last week of May 1810 - age 19
1810 - c1818
ROBERT WATTS
1818 - 1836
WILLIAM WATTS
1841
ROBERT WATTS
1845 - 1846
JOSEPH ALLEN
age 49 in 1851
1850 - 1858
JAMES BALLS
1861 - 1881
HENRY BOWYER HAYLOCK
1883 - 1891
SAMUEL WALLER
16.02.1892
GEORGE WINSTON
1900
SIDNEY GEORGE SMITH
to 07.1903
ROBERT KING
21.07.1903 - 1912
Tuesday 15th (8th?) December 1903 - Fine of 10s and 6s 6d costs for selling alcohol to a child under 14 years old in an unsealed vessel. A first offence.
THOMAS COATES BUTLER
1916 - 1922
HERBERT ERNEST ENGLAND
by 1925
DOUGLAS ARTHUR OLIVER BAKER
01.02.1932
BERTIE THOMAS MAYES
29.02.1932
THOMAS J. HARMER
03.11.1958
JOHN BARNARD BACON
(Known as Streaky or Jack)
c1963
to at least 1974
Mrs MARGARET BACON
widow
(Remarried Mr. Lloyd)
mid 1975
GORDON & MARGARET LLOYD
to August 1988
MALCOLM POTTS
08.1988 - 12.1998
-
RICKY MALT
2014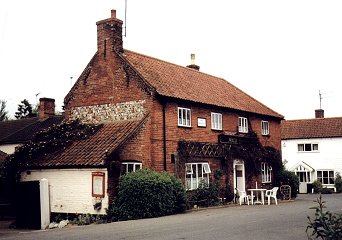 26.05.1997

Kellys 1933 directory gives Herbert Bertie Mayes,
Licence Register gives Bertie Thomas Mayes.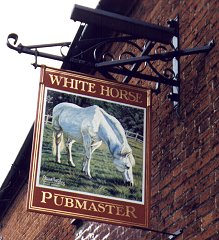 1997
17th September 1782
Neatishead publican, Joseph Hastings offered a half guinea reward for return of a Silver Watch with Steel Chain, an old Brass Key and a Silver Seal. The items had been lost during transit between Barton Turf and Wroxham Castle (PH).
Mr Hastings is confirmed as licensee in the 1794 Licence Register.

In the evening of Thursday 19th March 1818, Edmund King was killed when his cart overturned within 200 yards of leaving the White Horse, kept by acting constable Robert Watts. Mr. Horner and Mr. Riches sought to place the body in Watt's house but were met with a complete refusal. Mr. Horner then instructed that the door be broken open and in no way would he allow the body to be put in an outhouse. Eventually, after the body had been lying in the road for upwards of three quarters of an hour, a door was opened from inside and the body was carried into one of the rooms.
At the inquest, the following day, Mr. Horner and Mr. Riches were praised by the very respectable Jury, but were most disgusted at Watt's behaviour.
A verdict of Accidental Death was recorded.
Sir Jacob. H. Preston Bart. intended to dine here Monday 27 January 1834 to celebrate his birthday. His Friends and Tenantry were invited to attend.
Tickets 7s 6d each.<About £48 in 2020 ?>
The previous year the assembly had been to "Celebrate the coming of age of that truly worthy young Baronet".

Lot no. 46 in sale by auction 14th to 17th September 1841 of the Coltishall Brewery. Including Lot 47 a Meadow of 2R.
Copyhold sold to Mr. Keith for the sum of £560
.