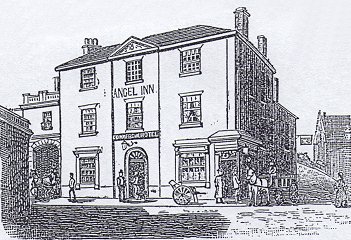 1860
Reputed to date back to early 1600's
A stone from the collapsed church tower was used as a mounting block.
Lot no. 76 in sale by auction 14th to 17th September 1841 of the Coltishall Brewery. Copyhold sold to the tenant, Mr. Plumbly, for the sum of £710.
Proprietor George Plumbly announced February 1853, that the property, having been rebuilt two years previously, provided Commercial, Sleeping and Sitting-rooms superior to any in the neighbourhood.
25th May 1889 - Mr. E. J. Morris informed his Friends and the Public that he had opened the well-known house and looked forward to their Patronage.
Good Bowling Green and Billiard Room.
George Edwards founded the Eastern Counties Agricultural Labourers & Smallholders Union at a meeting held here July 1906.
(Dates of the meeting vary from 6th to 26th July 1906)
This later became the National Union of Agricultural Workers.
Site became Angel Court.
The leaded glass door awning being reused.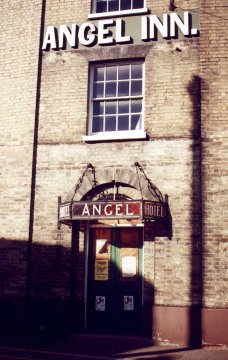 1989