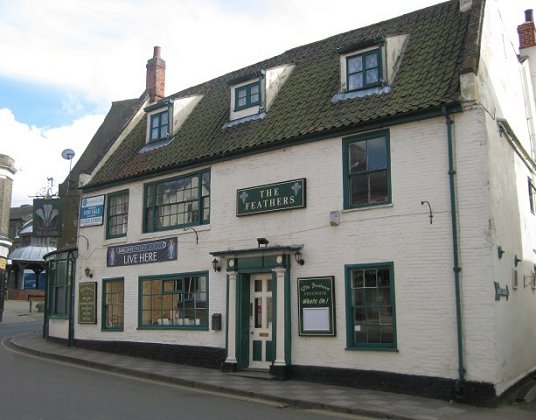 May 2015
Windows can be dated to 1754
(Some destroyed in a disturbance as reported 15.01.2001)
THREE FEATHERS
1794
Lot no. 74 in sale by auction 14th to 17th September 1841 of the Coltishall Brewery. Copyhold sold to Mr. Richard Andrews for the sum of £620.
The children of Mr. George Cooper were greatly alarmed when the bedroom window was blown out by strong winds and crashed to the ground during the night - as reported 16th November 1861.
Charles Cooper announced that his Coach Service running between North Walsham and Norwich would cease operation on Saturday 31st October 1874 in consequence of the completion of the East Norfolk
(Railway)
Line. Conveyances of every description would run to and from the Trains whenever required.
Held a Market Day extension for
Thursday afternoons - 2:30pm to 4:30pm
Property offered for sale due to the forthcoming arrival of a JD Weatherspoon outlet in North Walsham and the expected loss of trade.
Proposals April 2015 to convert into a `Heritage Centre' announced.

Closed 2016

Plans announced February 2018 to convert into two shops and living accommodation.