Licensees :
-
HINES GUN
1789 - 1794
-
-
WILLIAM MACE
& blacksmith
& wheelwright
Age 40 in 1841
1836 - 1846
ROBERT KNOPWOOD
& carpenter
1854 - 1856
FRANCIS RODWELL
1858
JOHN EVERETT
& blacksmith
1859 - 1861
JAMES TENNANT
1863 - 1864
CHARLES COOTE
& occupier of 2 acres
1868 - 1872
Fine of 5s and 11s costs on 7th August 1872 - See opposite.
WILLIAM CORNWELL
1875
JAMES JOHNSON
1877 - 1886
JOHN DISDLE (?)
& carpenter
1890 - 1891
HENRY JOHNSON
1900 - 1904
JOHN JAMES CLARKE
1908 - 1915
Mrs ROSE ALICE CLARKE
1916 - 1960
FRANK EDGAR PIKE
(brewery rep.)
07.10.1960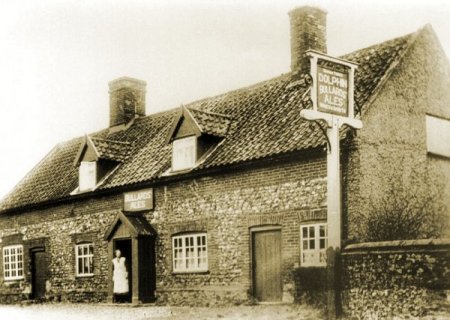 c1920
John Everett took the house on in 1859, in July of that year an agreement was signed by Mr. Everett and his father where they would be equally responsible to pay for the beer as well as rent.
In October 1861 a years rent was demanded along with the sum of 3s for beer. That sum for unpaid beer was disputed and it was said that the enterprise had not been successful.


Conveyed with 3 acres of land 30.12.1868 from the estate of the late L S Bidwell to S C Bidwell.
Value, including 2 acres of land was given 25.07.1889 at £380.

Charles Cootes was fined 5s and 11s costs on Wednesday 7th August 1872 for having his house open at prohibited hours on 21st July. Persons found in the house on that date were Richard Perkins, Alfred Lake, Benjamin Mace and William Tennant, all of Saham. They were each fined 2s 3d.

Offered To Let November 1895 with about 2 Acres of Land.
Apply Messrs. Bidwell & Sutton, Thetford.
Purchased 01.04.1901 by E C Quilter.