Licensees :
-
-
WILLIAM SNELLING (?)
1794
-
GEORGE BARBER
1836 - 1837
? See WHITE HORSE
1841
SUSAN TUCK
1845 - 1850
JOHN LOCK
age 22 in 1851
1851 - 1856
LEONARD TILLOTT
1858
FRANCIS S WATLING
Age 46 in 1861
1861 - 1864
WILLIAM TUCK
coach builder
Age 46 in 1871
1865 - 1879
WILLIAM BARKHAM TUCK
(Son of Susan Tuck - see 1845)
Age 70 in 1891
1881 - 1892
FREDERICK RICHARD EDRACH
1896 to 1903
GEORGE GATHERCOLE WEBB
27.11.1903
WALTER RABY WADE
12.10.1906
LOUISA WADE
09.02.1917
WALTER RABY WADE
15.10.1920
WILLIAM ROBERT BINDEN
14.11.1924
ALFRED ERNEST SCALES
13.10.1939
HARRY BRYAN
11.10.1946
ALBERT LEEDHAM
06.01.1950
JOHN THOMAS HODSON
22.05.1953
EDMUND JOHN DAWSON
01.07.1955
HILTON GORDON STEVENSON
05.01.1968
DEREK WILLIAM HARROWING
06.10.1972
DAVID JOHN IRVING
16.08.1974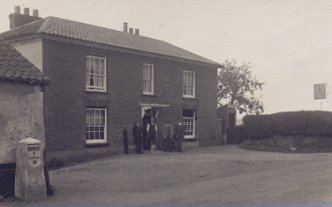 c1920

Appears on Bryant's 1826 map.

William Tuck applied on 31st August 1888 for an early morning, one hour extension to his licence. He requested that he be allowed to open at 5:00am instead of 6:00am so that harvest workers could get their beer fresh in the morning rather than have it bottled up the previous night. Application approved for the month of September only.

6 day licence to 2nd October 1897, then 7 day licence granted.
Morgans sales for 1960 were 87 barrels of beer and 27 spirits.