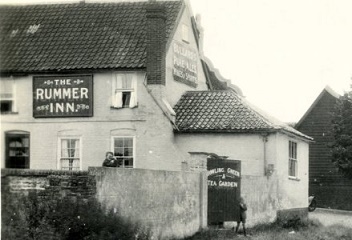 c1930
Shown on Bryant's 1826 map.
Purdy Barnes appeared before the Court of Insolvent Debtors 14th March 1833. He was described as late of Stoke Holy Cross, first a Publican and Tailor, and late a Tailor.
All the household furniture of Mr. John Huggins was to be Sold by Auction, Monday 10th October 1853, since he was intending to leave the Inn. Bar utensils, Glass and Earthenware, Farming Implements and 3 valuable Horses were included in the sale.
<Since Mr. Huggins is still listed in the 1856 trades directory, it seems his plans to leave were somewhat delayed.>

For Sale by Auction Saturday, 2nd June 1866.
An Old-established Inn and Road House on the high road to Norwich, with Barn, Stables, Neat-house, Outbuildings, Yards and Gardens.
A Freehold property available from Michaelmas 1866.