Licensees :
-
ALICE LANCASTER
1777
BENJAMIN TALBOTT
1778
GEORGE DAVY
1785
-
WILLIAM WHISSON BAKER
January 1792
Mr. ROYAL WATSON
Died Monday 3rd January 1820 - age 80
to 11.1806
-
Mr. R. G. BEESLEY
c1818
-
WILLIAM NORMAN
1819 - 1836
JOHN CRISP
1839
ISAAC GRAY
1845 - 1847
JAMES MAIN
1850
GEORGE GREEN
1854
WILLIAM COLE
& bailiff for the County Court
1856
JAMES OSBORNE
1858
ROBERT LARGENT
Age 51 in 1871 & wheelwright
1861 - 1879
HEZEKIAH KING
(as Ezekiah King 1888 & 1892)
Age 63 in 1891 & smith
1883 - 1892
RALPH AUGUSTUS JAMES KING
1896 - 1900
Mr. G. ROBBINS
here 09.1900
HENRY MOTT
1904
ROBERT JOHN ALDERTON
by 1908
Fine of £1 on 14.05.1931 for selling out of hours.
GEORGE JOHN MUNFORD
06.02.1933
SYDNEY ARTHUR GRAVE
03.02.1938
ROY VERNON BRISTER
Died 1953
02.03.1950
ELSIE ALICE BRISTER
23.04.1953
JOHN PATRICK GEORGE
24.10.1953
-
-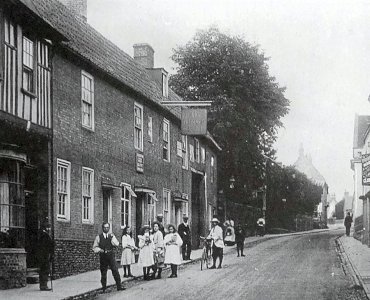 c1905
Ben Talbott announced 10th March 1778 that he had completed a very great Addition, in the best manner, to the House and Stables.

A Main of Cocks were to fight Friday 4th and Saturday 5th July 1777, being the Time of the Races. The event to be held in the Great Dining Room between the Gentlemen of Norfolk and the Gentlemen of Suffolk. There would be 31 Cocks on each Side in the Main, for four Guineas a Battle. The pitt to commence precisely at ten o'clock in the morning on account of the Horses starting at Half past Twelve. The Battle to recommence as soon as the Races were over.
All Gentlemen would meet with good Ordinaries, Neat Wines and civil Usage, by their humble servant, Alice Lancaster.
The first Main of three, the next to be fought by the same Gentlemen at the same time in the years 1778 and 1779.

For sale by auction June 1785, then in the occupation of Mr. Davy.
Address given as Bridgegate Street.

Mr. W. W. Baker, son of Mr. Noah Baker advised, 23rd January 1792, that he had taken up the Inn.

All the neat and good Furniture and other Effects of Mr. Royal Watson, of the kings Head, were to be Sold by Auction Monday, 24th November 1806 since he was leaving the Inn.

In 1830 the coach the TELEGRAPH, from Norwich to London called daily at 10:00am and returned in the evening at 5:00pm.
The MAGNET, from London to Norwich called daily at 5:00am.

Rent in May 1837, including adjoining Cottage was £27 per annum.


Lot No. 45 in 2nd day of sale by order of the Trustees of the late John Morse Esq. held 8th & 9th September 1847.
The property included :-
"A large Club room & a 5 roomed Cottage, a large inclosed yard, 3 six stalled stables & other requisite outbuildings - Freehold"

Offered To Let, Immediately 25th September 1847 - Possession Michaelmas next (29th September).

Valuation given 25.07.1889 as £720

Mr. G. Robbins was granted a `further extension of three months' to open his house before 6:00 am, to supply workmen going to work at Elvedon and Shadwell.

Sidney Arthur Grave advised February 1950 that he was leaving the town and the trade owing to his bad leg. His wife had died two years previously. He had worked as a chef before taking on the Kings Arms. In the First World War he had joined the Royal Flying Corps and was demobilised from the Royal Air Force in 1920. He had not been a pilot, but a member of the crew, ferrying aircraft to the front and had spent many hours on aircraft test flights.

A Grade II listed building.
Roof of outbuilding at rear of premises collapsed at 4:00pm on Sunday 8th May 2016.
One woman suffering minor injuries caused by one of many falling tiles.
Closed 2017
Plans to convert into accommodation published September 2019.