Licensees :
ROBERT MANBY
1791
-
JOHN TYLER
1822 - 1831
Mrs. FRANCES TYLER
1836 - 1843
CHARLES DEWING TYLER
& builder, joiner & collector of market tolls
Age 56 in 1861
1845 - 1861
S. C.BIDWELL
Temporary tenant - New full licence awarded 26th August 1861
August 1861
GEORGE WOOLARD
1863
THOMAS YOUNG
to 31.01.1864
ROBERT HALL
01.02.1864 - 1875
SAMUEL FULCHER PYE
1877 - 1881
Mrs HENRIETTA MARGARET PYE
(Mrs H M Pye & Son 1900)
1883 - 1900
SAMUEL FILBY PYE
1904
JOHN B HERN
1908 - 1912
Mrs CAROLINE HERN
(Still listed 1922)
1916
EUSTACE CUTHBERT QUILTER
by 1921
JAMES CAIRNS MILLER
17.11.1921
ALFRED GEORGE CLAYDON
17.09.1924
FRANK WOODWARD BRIDGES
05.11.1931
JONATHAN HIGGINGBOTTOM
10.03.1932
ALFRED GEORGE CLAYDON
10.11.1932
ALBERT WILLIAM MILLS
09.07.1936
ALFRED FREDERICK LAWSON HARRIS
24.11.1949
FRANK EDWARD HUGHES jointly with
JOHN RICHARD McBRIDE
24.07.1958
FRANK EDWARD HUGHES
24.11.1960
AUGUSTUS ORTON
(Gus)
22.10.1964
F. E. HUGHES
1967 ?
.
-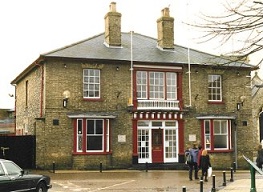 Address also as Thatchers Street.

18th November 1831 - Advertised To be Let by Tender for Three Years from 6th April 1832.
Then in the occupation of John Tyler under a Notice to Quit.
Among the conditions of Hire were the undertaking not to take or collect tolls from any person on the Premises or to erect, build or put up any Stall or Standing in the Yard, for profit or otherwise.

Advertised August 1836 to be Let by Tender for a period of seven years from Michaelmas 1836, together with the Tolls arising from the Meat and Vegetable Markets, adjoining the Inn.

Described as Newly-built when offered To Let by Tender on Lease with occupation from 11th October 1843 for Ten years. Then in occupation of Mrs Frances Tyler and including a capital four-stall Stable, loose-box, Coach-house and excellent Outhouses. The Tender to include all Tolls, Dues and Duties arising from the Stalls and Standings in the Market Place and from two-thirds of the Tolls, Dues and Duties arising from the Shambles, there, with privileges arising from the use of the Hall, altogether producing from £20 to £30 per annum.


Offered to let by tender 5th March 1853.
`With capital four-stall Stable, Loose Box, Coach-house and excellent Out-houses, now in the occupation of Mr. S. D. Tyler, whose Lease expires at Michaelmas next. The house is well fitted up with Fixtures of every description, which are the property of the Council, and Let with the House.'

Steward & Patteson were in the bidding for the 10 year lease which was auctioned on the evening of 9th September 1861. Beginning at a yearly rental of £50, Mr. S. C. Bidwell won the auction with a bid of £150.

Mrs Nella Newell was charged 12th December 1864, under bye-laws, of using abusive language to publican Robert Hall on 2nd December 1864. Case dismissed.

The (un-named) licensee of the house was cautioned August 1864 for permitting dancing and allowing his house to be kept open to a late hour. (The Licensing Session had been delayed for some time owing to the difficulty in finding two magistrates to sit. Eventually Mr. Davy of Kilverstone was induced to occupy a seat on the Bench).

Advertised To Let by Auction 29th August 1881.
Occupation from 11th October 1881 for 10 years.
Including all the Tolls, Dues and Duties arising from the Stalls and Standings on the market Place. Also Two-thirds of the Tolls, Dues and Duties arising from the Shambles there.

The Red Lion and Tolls, the Property of the Council of the Borough of Thetford was offered To be Let, by Auction, Thursday 17th September 1891, for a Lease of 10 Years from 11th October 1891,

Let by the Town Council, for a term of ten years to the existing tenant, T. S. Bidwell, Esq. on Thursday 1st September 1903.
The cost of lease being subject to the new code of byelaws relating to the market and with the Council retaining their public use of stables at the rear of the premises. Bidding for the lease started at £40 per year and was finally awarded to the bid of £94 per year.
Henrietta Margaret Pye (widow) was appointed sole executor by the will of licensed hawker Robert Eagling (died 6:00am 16th April 1885)
His estate included `` £85 in the bank and a book and papers in a box at Rockland''.
CLOSED 2010
Note:
Mrs Caroline Hern is given in 1922 directory
perhaps then manageress for Mr Quilter / Miller?