Licensees :
-
JAMES DAY
1789 - 1794
-
CHARLES GARROOD
& blacksmith
1836
DIANA GARROOD
(as Dinah Garrood 1851 - age 64)
1845 - 1851
ROBERT CHASE
1854 - 1856
Mrs ANNA MARIA COPEMAN
Married Samuel Dowson Q3 1858
1858
SAMUEL DOWSON
Age 29
(Wife Anna M. - age 44)
1861
CHARLES YOUNGMAN
1863 - 1881
Mrs MARIA YOUNGMAN
1883 - 1888
CHARLES LONG
1890 - 1896
WILLIAM COCKRELL
1900 - 1904
JOHN ROSE
1908 - 1937
.
SIDNEY JAMES DODD
05.02.1975
RICHARD GUNDRY
04.09.1975
ERIC PARKINSON
27.05.1976
-
JAN & GILES MORTIMER
from c1996
THOMAS WAUD
from April 2007
COLIN & SARAH WORBOYS
from July 2011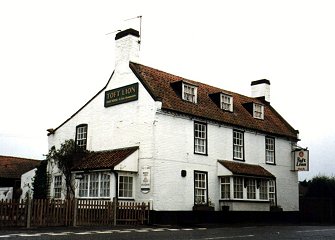 January 1998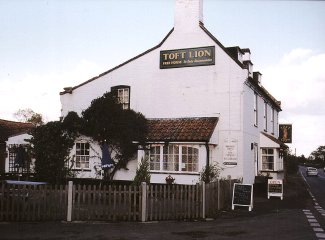 September 1998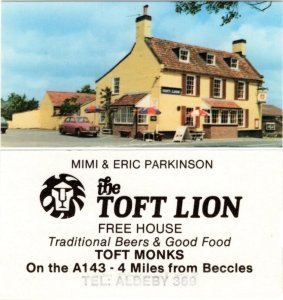 Included in Loddon & Clavering Register taken 21st September 1789.

Shown on Faden's 1797 map as the White Lion Ale House.

Generally referenced as TOFT LION

On Wednesday 30th August 1865, John Soanes was charged with an assault on licensee Charles Youngman. He was fined 8s with 12s costs.

Morgans sales for 1960 were :-
64 barrels of beer
20 spirits

Closed 14.08.1975.
Reopened as a Freehouse by 1985
2002 :-

Providing Adnams Ales and up to 2 guest beers.
Offering food and accommodation.
Features include real fires in the bar, a beer garden and a large car park.
Full range of facilities include Darts & Pool.

Regular events include Disco's and Quiz Nights.















Opening times 2014


| | |
| --- | --- |
| Monday | 4:30pm - 7:30pm |
| Tuesday | 4:30pm - 8:00pm |
| Wednesday | 4:30pm - 8:00pm |
| Thursday | 4:30pm - 10:30pm |
| Friday | 4:30pm - 10:30pm |
| Saturday | 12noon - 10:30pm |
| Sunday | 12noon - 7:00pm |


Standard opening times 2018 & 2020


| | |
| --- | --- |
| Monday | 4:30pm - 7:00pm |
| Tuesday | 4:30pm - 7:00pm |
| Wednesday | 4:30pm - 7:00pm |
| Thursday | 4:30pm - 9:00pm |
| Friday | 4:30pm - 10:30pm |
| Saturday | 12noon - 10:30pm |
| Sunday | 12noon - 7:00pm |