Licensees :
-
-
CHARLES FLOWERDEW
1789 - 1790
JOHN UTTING
1794
-
JOHN BAILEY
Died Friday 15th July 1831 after a long affliction - For many years master of the WHITE HORSE, a good husband, a tender father and an honest man.
undated
-
BENJAMIN BALES
& gardener
1836
GEORGE HALL
age 54 in 1851
joiner (See 1835 below)
1842 - 1854
ROBERT GRIEF
1856
JAMES GRIEF
Age 55 in 1861
(Retired publican, age 66 and living in village in 1871)
1858 - ?
JAMES GRIEF
Age 36 in 1871
by 1871 - 1877
HENRY HARRIS
& dealer 1881
& pig jobber 1883
1879 - 1888
JAMES BIRD
1890
THOMAS HORNE
1891
JOHN ARMES
by 1896
HENRY YAXLEY
15.10.1909
ALBERT T. BROWNE
17.10.1931
Convicted 02.04.1937 of permitting gaming.
Fine £10 plus £5/5/- costs
HERBERT SIDNEY HOWARD
07.08.1937
CHARLES WILLIAM BRIDGEMAN
04.09.1948
-
TREVOR ROWLAND BURROWS
1973 - 1984
JACK TAYLOR
1986 - 1988
NIGEL & LIZ PLEASANTS
by 08.1988 - 10.1992
PETE MARTIN
from 10.1992 - 1993
PAM & DAVID O'REILLY
managers
10.1993
PAM & DAVID O'REILLY
licensees
08.1995
PAM O'REILLY &
ANDY COLEMAN
by 1997
PAM & ANDY COLEMAN
by 2012
The Household Furniture, Fat Pigs, Donkies
<sic> ,
small Hermaphrodite and other Effects of Mr. George Hall, a Bankrupt, were to be Sold by Auction at the White Horse on Monday 20th June 1835.
The following day, his Extensive and Valuable Stock in Trade, as a Timber Merchant, Carpenter and Wheelwright, also Boarded and Tiled Buildings were to be Auctioned.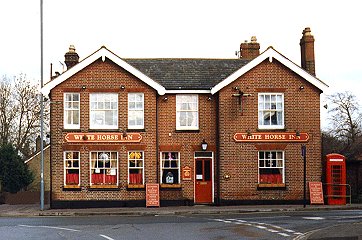 1996
Damaged by enemy action 08.05.1942
~
The Norfolk Chronicle of 17 May 1783 reported :-

Fun! Fun! Fun!
Trowse, first Spring Meeting for Asses will be on Monday next, the 19th Instant. A handsome Saddle and Bridle will be run for by Asses of all Ages, the best of three Heats, from Trowse Toll Bar round the Direction-post (standing between Bungay and Beccles Road) and back again.
To start at half past Six o' Clock in the Evening.
No crossing will be allowed.
Also a Smock will be run for by Fillies.
The Asses and Fillies to be entered at the WHITE HORSE, from half past four till the Time of starting.
Amazing Sport is expected, as many capital Asses have been some Time in training.
Vivant Rex et Regina.
~
Advertised To Let 26th November 1791 - Enquire at Day's Brewery.
~
White Horse & Tea Gardens 1842
~
A Fully Licensed Inn with good Cattle Lairs and Stables, offered To Let by Messrs. Steward, Patteson, Finch & Co., February and March 1892.
~
Said to be the first ex-Norwich Brewery pub (in Norwich area) to be refurbished as a Brent Walker house, when reopened Wednesday 31st August 1988. (Opening ceremony by former Norwich City FC chairman, Sir Arthur South).
Many thanks to Janelle Penney for the 1783 newspaper transcription
taken with permission, from © film provided by the
British Library Newspaper Library
Thanks also to Robert Campbell.