Licensees :
-
JOHN WHITTAM
1794
-
JOHN BERRY
(b 1756 - d 1819)
to 1819
JOHN BERRY junior
from 1819 -
JAMES TURNER
1830 -1831
JOHN BERRY junior
See below
to 1844
GEORGE CHARLTON
Age 50 in 1861
Wife Eliza - age 46
1846 -1864
HENRY BURRELL
& butcher
1865 - 1869
JOHN DEPTFORD
(William Deptford 1877)
1875 - 1888
CHARLES OVERLAND
1890 - 1908
GEORGE OVERLAND
1912 - 1948
CYRIL JUDD
18.10.1948
-
-
It seems that John Berry junior inherited the business from his father in 1819, but by 1830, James Turner is licensee, as confirmed by Pigot.
However, on Monday 15th April 1844, John Berry, who kept Upwell Crown, was found hanging, quite dead and cold in the barn. The barn doors had been locked from inside and had to be broken open.
The subsequent inquest returned a verdict of "Temporary Insanity".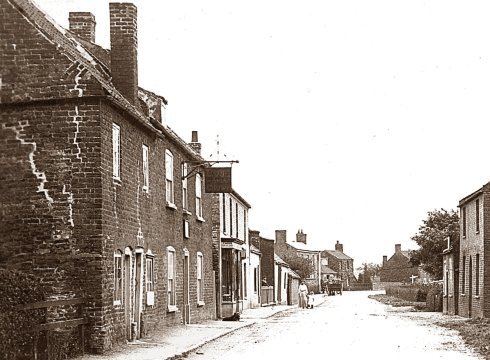 c1906 image thanks to Marj Krueger in Vancouver Island


Offered for sale by auction at the Five Bells Inn, Upwell, 29th May 1811.
` The well accustomed Public House called or known by the name of the ROSE & CROWN, eligibly situate in Upwell; together with the Blacksmith's Shop opposite.'

Norfolk 1851 and later census returns.

George Charlton was charged in September 1851 of Assaulting a Police Officer. Apparently P.C. John Clifford had been struck a violent blow to the eye at the Licensed Victuallers meeting, when both parties were much intoxicated. They were allowed by the Bench to retire and settle their differences.



Some times listed as the Crown - But different from the Crown at Crown Drove, Christchurch, Cambridgeshire.

Many thanks to Ann McClean for information regarding the Cambridgeshire Crown and Tansley Berry who was the landlady there, from at least 1851, probably to 1883
(died 1886 aged 89)