Licensees :
-
JOHN BUTCHER
age 50 in 1841
*1836 - *1841
HENRY WRIGHT GRANGER (38)
& blacksmith
1851 - *1858
Monday 8th September 1856 - Fine of 5s 6d and 14s 6d costs for keeping house open after 10 pm for the sale of beer.
JOHN BAILEY
& farmer 38 acres 1861
age 72 in 1871
1861 - 1875
JOHN BAILEY
1879
JOHN BAILEY junior
age 48 in 1881
1881 - 1899
WILLIAM JOHN BAILEY
& farmer
age 44 in 1901
*1900 - *1916
WALTER JAMES BARKER
by 1922
JAMES ALBERT SYLVESTER HARROD
10.01.1947
ALEXANDER NISBETT
19.10.1960
HENRY ALEXANDER CHESSON
07.02.1962
JOHN HENRY CLARKE
07.03.1962
MAURICE WINSTON QUIRK
08.10.1969
.
CAROLE GRANSDEN
2000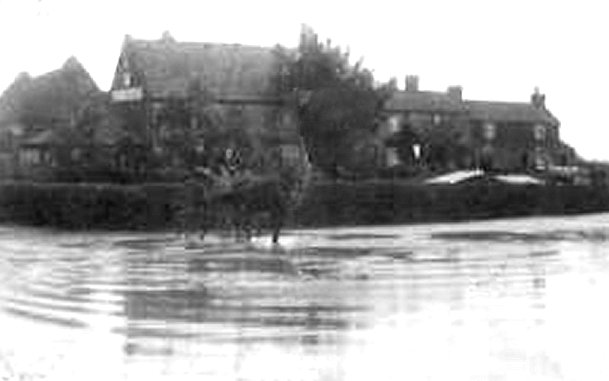 A glimpse of the Victoria during the floods of 1912.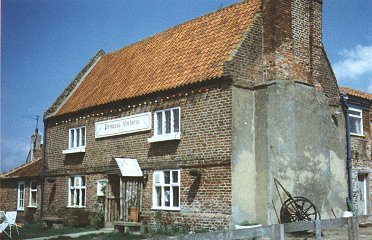 05.1986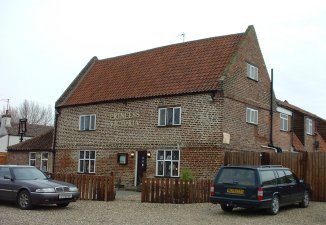 2002 - Image provided by Jayne Young.

Built 1651?


PRINCESS ROYAL pre 1851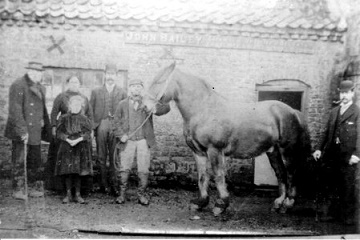 c1881 - Landlord John Bailey jnr. with wife Sarah to his side. Daughter Sarah stands in front of her mother. Son William John stands behind the groom holding the horse. Son John stands at the extreme right.


Named as PRINCESS VICTORIA 1861

Offered for sale by auction by Mr Stephen Gregory as sale report in the Lynn Advertiser 2nd June 1899.
The beerhouse being in the occupation of Mr J Bailey and including barn, stables and outbuildings.
Purchased by Mr T E Bagge for £875.


During a thunderstorm on the afternoon of Tuesday 26th June 1928, the gable-end of the house was struck by lightening. it was reported that one customer had his pipe electrically wrenched from his mouth. He was astonished but unscathed.
Full licence granted 13th March 1939 by removal from the SHIP INN, Tilney.

Penny In The Hole played here to at least the1950's.
6 `coins' used, one being a 1797 Heavy Penny the remainder being lighter brass discs.

Advertised to be auctioned 11th May 1990.
Described as offering extensive accommodation including a sizeable public bar, snug, large Cromwellian bar, restaurant area, kitchen, upstairs living accommodation and two 18ft attic rooms. Large car park.
Planning `change of use' granted by November 2002.

Another casualty.