Licensees :
-
?
1827
ROBERT HOLLAND
1836
SAMUEL DAY
1845
ROBERT WRIGHT
1846
BEAVIS BONNETT
& blacksmith
age 25 in 1861
*1858 - 1864
?
1865 - 1868
JAMES DRAKE
(James Deake 1869)
& blacksmith
age 60 in 1871
1869 - 1877
EDWARD THORPE
age 60
*1881
Mrs ELIZABETH THORPE
1883
BENJAMIN WARD
& coal dealer
age 45 in 1891
1883 - *1896
JACOB WARD
*1900
LETTICE MININGTON WARD
wife of Jacob - given as publican
Jacob Ward - age 49 - given as agricultural labourer
1901
ABRAHAM POWLEY
1904 -1910
JESSE AMBROSE PURT
1912 to 1943
MARY ELIZABETH PURT
21.06.1943
CHARLES RICHARD BOWDEN
22.06.1955
REGINALD ERIC GREEN
17.12.1958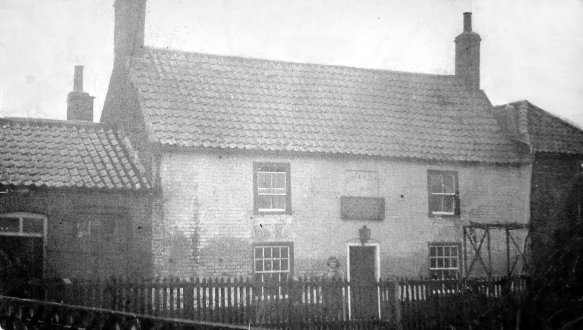 c1950 - Thanks to Trevor Kent


As FIVE HALLS on Bryant's 1826 map.

As FIVE AWLS in 1846 Post Office Directory

William Priestley was transported for life on Wednesday 8th August 1827 upon being convicted of stealing £33 in provincial bank notes from the person of William Neave, the younger, at the FIVE ALLS.

At the licensing sessions Monday 7th March 1910 it was said that the population of Walpole St. Peter was 1,147 and there were 9 licensed houses and one brewers licence in the area. That worked out at one house for every 114 souls, not counting the brewers licence. The annual value of the house was £16 5s, the rateable value £13, the rent £12, and the licence £4. The house was in good repair. The nearest public house was the BELL, 154 yards away. The licence of the FIVE ALLS was not considered by the Superintendent Bentham to be necessary to the neighbourhood.
Cross-examined, the Superintendent confirmed that he knew the tenant well, he was an ex-Metropolitan policeman. Representative for the brewery asked for other evidence to be heard, and he had influential witnesses who had come to court at considerable inconvenience. The committee Chairman said `I think the case must rest where it is.'

~
At the Petty Sessions 5th February 1912 the licence renewal was withheld on the grounds of redundancy, but would be open to argument at the 4th March licensing meeting.

~

At the Sessions 4th March 1912 the representative of Morgans Brewery said that in 1909 some 59 barrels and 222 dozen bottles of beer were sold. In 1910 it was 63⅔ barrels and 185 dozen bottles and in 1922 the figures were 74 barrels and 222 bottles.
Confirmed as being in a good state of repair and much used in the season by fruit-pickers, the Bench renewed the licence.

~

Sales 1960 given as :-
57 barrels of beer
6 spirits

Closure agreed at First Joint Committee Meeting of Bullards and S&P 29.05.1962
Sales given as 58 barrels.

Closed for trade 28th October 1962

Licence not renewed at the AGLM 6th February 1963.