Licensees :
-
THOMAS PRIOR (35)
*1841
HENRY HOWLETT
1849
LEE CLARK (44)
*1851
-
GEORGE BALDWIN
& blacksmith & carpenter
(also as George Balding)
age 42 in 1861
*1856 - *1866

15th December 1856 - Fine of £1 and 13s costs for having house open during prohibited hours on 29th November.
Monday 7th January 1867 - Fine of 40s and 25s 6d costs for keeping house open on Sunday 23rd December 1866.
THOMAS WEST
*1868 -*1869
JOHN WATLING (?)
& machinist
1871
.
JAMES MILLER
*1881- *1888
Mrs SARAH MILLER
*1892 - *1896
ELIJAH PARNELL
& farmer
*1900 - *1933
EMMA JANE PARNELL
by 1936
GEORGE WILLIAM RAYNER
23.06.1941
GLENYS HUGHES
17.12.1958
WILLIAM FRANK CHRISTIE
08.03.1961
-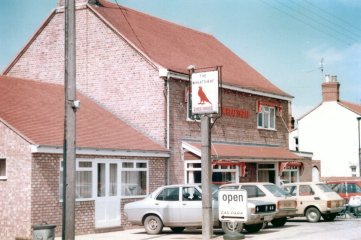 May 1986
A guard dog, protecting the house whilst Mr. Howlett was away, was attacked in a most brutal manner with a pitchfork, on the night of Saturday 11th August 1849. It was found dying the following morning.

Location 1858, 1863, 1864 & 1865 as Patrick's Island.

It was reported 24th February 1866 that on Thursday 15th February 1866, Mrs. Eliza Baldwin was discovered dying in bed, at about 5:00 a.m., by a neighbour. A doctor was called but Mrs. Baldwin died within 90 minutes. At the inquest on Saturday 17th February the cause of death was determined to be "from the effects of a recent blow on the head", there was insufficient evidence to explain the injury. Mr. Baldwin had apparently been drunk the night before the death of his wife and may have struck her, but she could also have struck her head on the bedpost.

Lot 16 : Part of the Union Brewery Estate, sold by auction Wednesday 25th July 1866 for £670.
Buyer Mr. W. H. Exley.

See also WHEATSHEAF - Marshland St. James.