Licensees :
-
Mr KEMP
1750 to at least April 1760
JOHN POOLEY
(An announcement published 7th August 1772 that he had relocated to Bury St Edmunds and taken on the Bell Inn)
to 1772
Mr FAUX
pre 09.1777
WILLIAM BUSHELL
by 09.1777 to at least 1779
JOHN BUCK
1785 - January 1788
JOHN TURNBULL
by October 1789
-
JOHN METCALF
Here 1794 - in occupation to May 1795
PETER HUDSON senr
October 1795
WILLIAM ATTMER / ATMAR
October 1803 - 1818
ABRAHAM DUNN
(Died 1823)
1822 - to at least May 1823
MARIA DUNN widow
(Married A Dunn 1808 - Re-married John Wiseman July 1826)
June 1823 to at least July 1826
THOMAS WRIGHT
1830 - 1831
Mr & Mrs WILLIAM READ PRIDGEON
April 1831 to
June 1833
M. BULLOCK
1836
ROBERT LOVELL
1839
DENNIS ALLEN
1845 - 1846
JOHN PORTER ?
See opposite
to April 1847
JAMES MARTIN
here 14th November 1848
THOMAS HAYHOW
(65 in 1851)
& brewer
(Declared bankrupt 1852)
1850 - 1852
NEALE HAYHOW
1854 - 1856
ROBERT HENDRY
(? only found under beer retailers)
*1858
GEORGE FROST
*1861 - 1865
ROBERT APPLEGATE
1868 - 1869
JONATHAN ARNOLD
1872
HENRY WOOD
fish curer
1875
JOHN BURCHAM
1879 - 1892
JAMES WICKS
1896 - 1902
Monday 3rd June 1901 - Accused of keeping his house open for the sale of beer during prohibited hours on 25th May. Case adjourned.....
Monday 5th May 1902 - Charged of having his house open at 8:50 am on March 30th. "You have caught me, and I shall have to put up with it". Fine of £3 and 4s costs.
WILLIAM BYCROFT
by 1903
(DAVIDSON & GLAZEBROOK)
(1904 - 1908)
JAMES ALEXANDER DAVIDSON
07.11.1904
ROBERT FRANCIS DAVIDSON
04.07.1910
BEATRICE FYSH
07.11.1910
EDWARD BEST
03.05.1915
FRED CAWTHRAY
07.02.1927
HERBERT BOLTON
04.02.1929
ALICE MAUD BOLTON
02.02.1942
BENJAMIN FRED BIRD
04.05.1942
ALBERT WILLIAM YORK
07.09.1942
JOHN EDGAR CURSON
07.05.1951
ROBERT FREDERICK SMITH
14.06.1965
PETER ANTWIS
04.10.1971
.
ANDREW WADDISON
2005 - 2007
-
STEVE BRUNDLE
by 2015 - 01.2018
-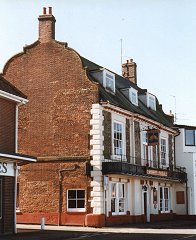 1999


Also given as the GOLDEN FLEECE HOTEL

The FLEECE is recorded 1642 in the Wells Manor Court Records.

Plaster mouldings in upper rooms dated to c1710.

Offered To Let August 1777, situated for far the best accommodation to Travellers, or any Customers, of any House in Town.

The Norfolk Chronicle of 11th September 1777 advertised that William Bushell, newly arrived at the house, had installed new beds for the increased comfort of his guests.
On the 11th October 1777 it was confirmed that Mr Bushell had taken over from Mr Faux, and having fitted up the Inn with Beds, and laid in a good Assortment of Wines and other Liquors, he hoped for the continued favours of the gentlemen and Ladies, and all others.....

Offered To Let June 1780 with Possession from Michaelmas.
Enquire of Zachariah Browne at Wells or Peter Browne at Weston.

John Buck announced 7th May 1785 that he had taken the Inn and laid in a fresh Stock of neat Wines and Spirituous Liquors of the best Kind.

On 19th January 1788 an Auction was held here, in the afternoon, of various Estates, including the WOUNDED HART.
On the same day, in the morning, Mr. Buck sold by auction, a Four Wheel Chaise and Harness, two useful Chaise Horses, a One-horse Chaise and Harness, a new Tumbler, a new Plough and a Pair of Harrows, Fours pairs of Harness, a Side Saddle, a Pillion, Two Men's Saddles and Bridles, Four Ash Timbers, felled December 1787 and various other Articles.

All the Household Furniture and other Effects of John Buck were to be Sold by Auction, At the Fleece Inn, on Wednesday 13th February 1788. Mr. Buck having assigned his Estate and Effects for the equal Benefit of his Creditors.

The Creditors of John Buck were to meet at the TUNS, Wednesday 27th August 1788, to examine the accounts and receive a Dividend arising from the same.

To be Sold by Auction Saturday 18th April 1789, with Ten Acres, more or less, of Land

The Norfolk Chronicle of 10th October 1789 announced that Mr John Turnbull (From Thornham Ship) had taken on the inn.

~

Let by William Hardy in 1790

~ ~ ~ ~ ~ ~

Advertised For Sale by Auction 23rd May 1795, then in the occupation of Mr. Metcalf.

~ ~ ~ ~ ~ ~

PETER HUDSON
BEGS leave to express his grateful acknowledgments of the great encouragement he has experienced in the short space of on year that he has been in the above mentioned house an encouragement that allows him to flatter himself that his endeavours to give satisfaction have not been in vain, and that from the increasing numbers of Gentlemen travellers who favour him with their company, they have found such accommodation in every respect as to merit recommendation. He therefore feels himself 63" in duty bound again to address the Nobility, Gentry, Travellers, and the public at large with an assurance that he will unremittingly thrive to shew his sense of favours already received by neglecting nothing in his power to deserve a continuance.
Chaises with able horses and careful drivers at the shortest notice.
September 20, 1796

~ ~ ~ ~ ~ ~


On 15th October 1803 it was announced that William Attmer of Yarmouth had taken on the FLEECE from the late Mr Hudson.
The sale by auction of ALL Household Furniture, Glass, Earthenware etc, including seventeen good feather beds, the property of William Atmar, took place 8th, 9th & 10th October 1818. (Mr Atmer was at the LAMB INN, Norwich by October 1824)

~~~~~~~~~~

For Sale by Auction 12th October 1812.

~~~~~~~~

Offered To Let, April 1831, with recently fitted up Billiard Table, commodious Brew-house, extensive Stabling, lock-up Coach-houses and every other convenience for a large trade. Apply to current occupier, Mr. Thomas Wright.

William Pridgeon announced 28th May 1831 that he had taken the Inn and fitted it up with every comfort and convenience.... offering Neat Post Chaises, able Horses and Careful Drivers.

~ ~ ~ ~ ~ ~

On Friday 17th June 1831, about forty gentlemen and tradesmen of the town dined at the Fleece Inn, to celebrate the opening, or what is commonly called a house-warming. The dinner and wines did great credit to the new host and hostess, Mr. and Mrs. Pridgeon, who have given every attention to comfort and convenience in fitting up the house, and we sincerely hope they will profit by their exertions. James Chapman Esq. was unanimously called to the chair. Many toasts were drunk and several excellent songs served to enliven the festive board, the company continuing to a late hour to enjoy the pleasures of harmony and conviviality.

~ ~ ~ ~ ~ ~

The following announcement was published 24th April 1847

To be SOLD by Auction - On the Premises Fleece Inn, Wells
ALL the useful HOUSEHOLD FURNITURE , a well- selected stock of Wines, Spirits, India Ale and other Effects, belonging to Mr JOHN PORTER, under a deed of assignment for the benefit of creditors.

The furniture consists of four post and tent bedsteads, feather-beds, and bedding, chairs, mahogany and other tables, sofa, excellent eight-day clock, full length statue of the late Earl of Leicester (by Francis), with the usual housekeeping requisites.

The Stock comprises 10 doz. Of prime old port wine, 28 doz. Sherry, 30 gallons of Cognac, and Jersey brandy, 16 gals. Rum, 37 galls. Gin, 3 barrels of Indian ale, with a variety of other wines, cordials &c.
The Sale begins at 11 o'clock.
The Sale of Wines and Spirits will commence precisely at 3 o'clock.

Mr Porter was the OSTRICH, according to trade directories for 1845, 1846 and 1850.

~ ~ ~ ~ ~ ~

At the time of an Odd Fellows dinner, Tuesday 14th November 1848, Mr. James Martin was licensee.

~ ~ ~ ~ ~ ~

Thomas Hayhow appeared at the County Court 27th November 1857 as an Insolvent Debtor. Said to be late of Gambles Yard, Staithe Street, Wells in no business or employment, before that of the Fleece Inn and the New Inn, Retailer of Beer, Licensed Common Brewer and Licensed Victualler.


~ ~ ~ ~ ~ ~

The Lynn Advertiser of 3rd June 1910 advised of sale of the premises on 29th June 1910, by direction of the trustees of the late Proprietor, Mr James A. Davidson.
Described as very old-established and facing the Quay, with separate entrances from Staithe Street, most substantially built throughout and containing splendid ale and wine cellars, office, capital bar, smoke-room, handsome billiard-room (36ft x 20ft), also capital club-room, cloak-room, lobby and dry earth closet; 3 large attics and store cupboards. Also large open Yard, with pump and well of excellent water. Capital Bottling Store and Bottle-Washing House, Stables and Cart-Sheds, etc..
Large sums of money have been spent by the late proprietor in alterations and modern improvements. The Sale is entirely in consequence of his decease. Freehold.