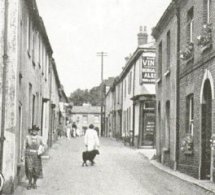 c1930 - High Street.
It appears that the original
VINE
was located in the premises now called the
GLOBE
.
In October 1831 Mr. Plowright was declared bankrupt and a sale of the
VINE
and its contents was held at the
CROWN
on Monday 24th to Thursday 27th October 1831.
Location described as next the High Street, on the Butt Lands.
(The sale included 3000 bottles of prime port wine, 41 gallons of Brandy and 100 gallons of Gin as well as quantities of beer)
By 1863 the
VINE
reappears relocated in the High Street, in premises known to have been an outlet for wine & spirits in earlier years.
Advertised 21st June 1879 as To Let with Immediate Possession, or at Michaelmas, with Bowling Green.
Apply to Elijah Eyre & Co., Lady Bridge Brewery, Kings Lynn.
Morgans sales for 1960 were :-
52 barrels of beer
14 spirits.
36 barrels of beer sold by S&P in the final year of trading.