Licensees :
-
HENRY BENNETT
*1896
Mrs ANNA MARIA BENNETT
*1900 - 1914
GEORGE SYMONDS
by 1916
RONALD EUGENE JACKSON BELL
07.07.1934
DOUGLAS ARTHUR OLIVER BAKER
07.10.1942
c1915 - A magnificent house.
Image shown with permission
© Jennifer Davis 2002

Beam above door dated 1583.


House known as the German Cottage when lived in by James Scott who was a carpenter and organ builder. In 1869 Scott is only recorded in the trades directory as an organ maker, no mention of beer. At the time of his death in 1871 he was recorded as a brewer. (The 1871 census records him as an imbecile. This condition was as a result of a serious head injury in 1867, which is possibly when Thomas Sayer arrived at the house, taking occupation by 1872.

Info thanks to David Secker
Known as "SAYERS" to 1890's

Also referenced as the FIVE HORSE SHOES
Whole village forcibly evacuated in 1942 to allow formation of battle training area.
Licence "In suspense'' 1942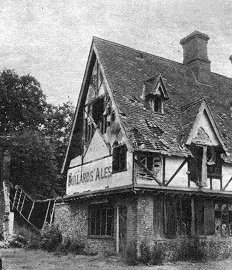 c1953
Evidence of damage apparent.
Image provided by Jennifer Davis.