Licensees :
-
THOMAS HOLMES
1794
ROBERT PARKER
1801
JAMES MORLEY
& farmer
Age 60 in 1821
Died 13th July 1839 - age 80
1811 - 1836
Miss MORLEY
Married Robert Colman Thursday 5th December 1839
1839
Mrs ANNE COLMAN
(Ann Coleman 1856)
See below
1845 - 1867
DAVID BATEMAN
13.11.1867 - 1883
JOHN BUXTON
10.10.1883 to 1885
ELIJAH MOYE
14.10.1885 - 1888
LEWIS LEAPER
1890 - 1891
JOHN HAVERS
1892 - 1898
WILLIAM MUTIMER
12.10.1898 to 1899
ELIJAH WILLIAM LAMBERT
(died 1968 - aged 92)
12.04.1899 - 1904
ROBERT BOAST
11.01.1905
GEORGE SIMONDS
(Christopher George Simonds in 1905 Petty Sessions)
11.10.1905 to 10.1907
HENRY PAUL BAKER
09.10.1907 - 1909
WILLIAM LOVETT
to 05.1911
THOMAS VINCENT
10.05.1911 - 1915
HENRY SCARLETT
1916
ROBERT JOHN ROUT
(The funeral of Mrs. Emily Elizabeth Rout took place Saturday 17th May 1930 - she was aged 50 years - Died 14th May)
1921 - 1932
Wednesday 13th April 1921 - Fine of 10s for driving a horse and cart without either front or rear lights on 1st April.
Wednesday 26th August 1931 - Summoned for failing to record the movement of two fat pigs on 3rd July. Further summoned for similar offence of moving one pig on 17th July. Fine of 5s on each pig.
Wednesday 23rd September 1931 - Summoned for non-payment of the general rate of £4 12s 2d and costs 3s 6d. Previous to the hearing Mr. Rout had paid £2 and the Court ordered that the remainder be paid.
Wednesday 14th October 1931 - Fine of 40s, which included costs, for allowing the person he had left in charge, to serve intoxicating liquor at illegal hours on 21st August . (Person in charge was Mrs. Ransome, Mr. Rout's daughter)
As reported Friday 15th July 1932 - Mr. Rout was fined 14s, including costs, for having used a carriage, without a licence, on 13th March 1932.
ERNEST ORFORD
(The funeral of Mrs. Bertha Orford took place December 1939 - age 45)
1933 - 1952
Tuesday 27th April 1937 - Ordered to pay fish merchant 10s a month to settle a debt of £9 3s.
See opposite
....... ORFORD
c1963
It was reported 16th July 1937 that Mrs. Ann Colman, late landlady of the Old Oak Inn, where she resided for upward of forty years, had died the previous Saturday, at the house of her son at Cow Cross, London, age 81.
It would appear that the Anne Colman named here in 1845 was her mother, since this Ann was born about 1856.
~
Miss Hilda Bertha Orford, only daughter of Mr. & Mrs. E. Orford, married Mr. Cecil Charles Gosling on Saturday 16th October 1954.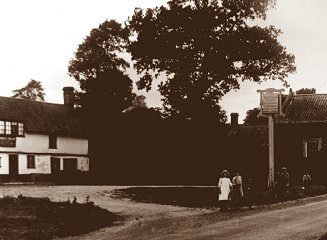 c1910


Lot No. 33 in sale by auction 02.09.1840.
Part of the estate of Robert Sheriffe.
Tenant then Robert Colman.
Sold for £640 to Mr. Farrow.
Lot No. 24 in the sale of the Diss Lower Brewery Thursday 30th March 1876. Purchased by Youngs, Crawshay & Co.

Advertised To Let with Possession at Lady Day (25th March) 1892

Advertised To Let 31st August 1909.

Owing Grimsby fish merchant John Cash the sum of £9 3s for fish supplied, on Tuesday 27th April 1937 Mr. Ernest Orford was ordered to repay the debt at 10s a month or go to prison.
Mr. Orford advised that he got practically no living from the public house and only sold 18 gallons of beer a week. Sales of bottled beer were from 4 to 6 dozen a week. To supplement his income he "did a bit of work on the land".
E. Orford, of the Old Oak, offered an American Organ, Doll's Pram, Spring Mattress and ¾ size Iron Bedstead, For Sale, all in good condition, Friday 10th December 1943.
Advertised June 1932 - To Be Let, with early possession.
With Shop, Slaughterhouse and Meadow.
Apply Youngs, Crawshay and Youngs, Crown Stores, Diss.
The tree - the old Winfarthing Oak, was mentioned in the Doomsday Book.
In 1744 the tree had a circumference of 38 ft 7in. By 1834 the circumference had increased to 40 ft.