~
Richard Bullard was sole proprietor from 1847.

His son Harry Bullard took over in 1864 with brothers Charley and Fred as partners.
Trading as Bullard & Sons by 1868
Harry became Sheriff of Norwich 1877.
He was Mayor in 1878, 1879 & 1886 (Knighted by Queen Victoria 1886)
Elected as MP for Norwich in 1890 & 1895.

In August 1887 and May 1888, Bullard & Sons advertised Light Bitter Ale, specially adapted for Family use at 9s per Firkin.
(At a price per pint of 1½d)
They also offered Imperial East India, Pale Ale, Light Bitter, London Stout and nourishing Double Stout.

The Annual Outing of staff employed at the Anchor Brewery took place on Friday 21st September 1888.
As on former occasions, the wives of workmen were included in the party and every man was given 3s to pay for tea and extra refreshments. The train fares and dinner were included in the treat.
The assembled party departed in 20 carriages from platform 6 of Thorpe Station 6,punctually at nine o'clock.
Upwards of 700 persons were most liberally and hospitably entertained at Yarmouth by Messrs. Bullard & Son.
Lady Bullard honoured the party by travelling with a large gathering of special friends, in a special carriage.
Free admission was given to Britannia pier. Switchback rides, De Cone's Magical Entertainment and Miss Webb's Swimming Exhibition were available at half price, upon production of his or her rail ticket.
Dinner was at 1:30 at the Aquarium.
Sir Harry Bullard was loudly cheered.
Fred Bullard looked forward to many such outings in future years. (Cheers.)
The party returned to Norwich, arriving at 10:40pm.


Registered as Bullard & Sons Ltd in 1895 with
Sir Harry Bullard (Chairman), John Boyce and Mr George Coller, directors.

By 1900 the brewery covered some 7 acres.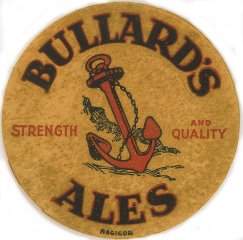 Expansion :-

Rock Brewery of Eye, Suffolk - 1897

Bidwell & Co, Thetford - 1924

Hogge & Seppings, Setchy - 1928

Youngs, Crawshay & Youngs, Norwich - 1958

The company shared the Morgans Brewery estate with rivals S&P in 1962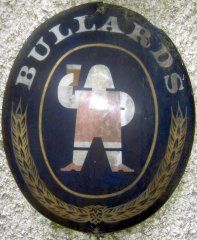 Heavily stylized by Watney Mann
in 1960's