Licensees :
WILLIAM HENRY BRIGGS
1858 - 1859
SARAH H. BRIGGS - beer shop keeper
(William H. Briggs - Dyer)
1861
WILLIAM HENRY BRIGGS
Died Q2 1867 - age 35
1861 - 1866
Fine of 20s and 11 s costs 2nd September 1861 - See opposite.
Fine of £3 and 8s costs 3rd April 1866 - See opposite.
ISAAC CANNELL
age 56 in 1881
& harness maker
1868 - 1881
JOHN DANIELS
*1883 - 1896
FREDERICK AYTON
24.03.1896
THOMAS FIELDING
20.06.1899
Saturday 29th July 1905 - Fine of 5s without costs, or 5 days detention for being found drunk in the Jolly Brewers, Magdalen Street on 20th July.
Convicted 12.07.1916 of permitting drunkenness.
Fine 10/- or 7 days detention.
ROBERT PAUL
17.05.1921
ALFRED CHARLES FINCH
15.10.1935
GILBERT STANLEY NUNN
14.06.1938
ARTHUR GEORGE FROST
05.04.1941
JAMES JERVIS
13.02.1945
EMILY ELLEN JERVIS
20.08.1946
EMILY ELLEN NUNN
by 1947
DUDLEY ALBERT GRIMBLE
03.01.1956
DONALD HENRY PHILIP NEWSON
21.08.1956
ELSIE MAY NEWSON
30.08.1960
DUDLEY ALBERT GRIMBLE
03.01.1961
ALBERT VICTOR COE
14.02.1961
ALBERT ALFRED OLBY
09.02.1965
FRANCIS THOMAS LANEY
05.09.1972
BENJAMIN FREDERICK ANDREWS
04.01.1977
JOHN CHRISTOPHER HEYWARD
06.01.1981
WILLIAM ERIC SAWYER
17.03.1987
DAVID HOWARD
19.09.1989
VINCENT HUNT &
KARIN LEIGH SURFIN
13.05. 1997
-
LANA SWIFT
2002 - 2019+
-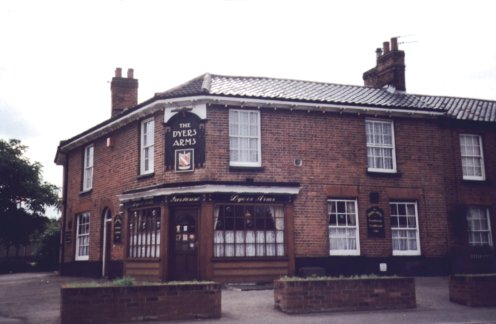 1996

William Henry Briggs applied for a full licence Monday 23rd August 1858 - Refused.

Beerhouse keeper Henry Briggs was charged Monday 2nd September 1861 of keeping his house open during prohibited hours. Police-sergeant Bedford proved having found four men and a woman in the house at about twenty minutes past twelve o'clock on the night of Thursday 29th August 1861. In defence it was said that Police-constable Blake had visited the house at half past ten and took four glasses of beer from the jug upon the table. Blake admitted to taking two glasses of beer. The Mayor said that the fact that the policeman did wrong, did not exonerate the defendant who had been convicted before, and in this case the offence was worse since a policeman had been bribed. The defendant was fined 20s with 11s costs. Constable Blake was to be suspended and his case put before the Watch Committee.

Henry Briggs was charged on Tuesday 3rd April 1866 of having his house open for the sale of beer during the hours of divine service on Good Friday. Police-sergeant Kirk had observed a female leave the house with a jug at about ten minutes past eleven. Inside he saw two men standing at the bar, one holding a glass of ale. In another room two men were playing cards, which Briggs attempted to conceal. It was argued that the defendant's uncle, an infirm Chelsea pensioner, had drawn beer for one of the two men who had assisted him home. It was without the permission of Mr. Briggs.
There being three previous convictions against Briggs he was fined £3 with 8s costs and a warning not to repeat the offence or he would suffer the full penalty.

John Daniels applied, on Monday 24th August 1891, for a music and singing licence for the convenience of members of a fishing and a political club which used the club-room. Application granted.

On Monday 8th April 1907 Thomas Fielding was summoned by the Chief Constable of causing eight pigs to be moved along Magdalen Street. This was a swine fever infected area and he did not have a licence. The pigs had been moved by Alfred Hastings. A serious matter, the pair were liable to a fine of £10, but leniency was given and Fielding was fined 10s and 6s costs whilst Hastings was fined 1s without costs.

Offered for sale January 1997 - £107,000 +VAT.

Plans to convert to accommodation announced April 2019.