Said to date back to 1756.
Also known as the
NUTS & BOLTS

.
Full licence granted Tuesday 25th August 1868 to Larrance Dawes.

Stephen Amiss applied, on Monday 24th August 1891, for a music and singing licence. It was refused on the grounds that the room for singing was not large enough and the sanitary accommodation was defective.
On Thursday 9th February 1905 the Chief Constable objected to licence renewal owing to the back doors opening into enclosed yards common to other tenements. During the session he withdrew his objection and the licence was renewed.

A 6 day licence was held from 1872 to 10th February 1959, when the licence of the WHITE LION, St. Benedict's, was removed to these premises.
Address also found as 1 St. John Maddermarket and
1 St Johns Street.
One of the very few Norwich houses to escape the ravages of `modernisation' during the 1980's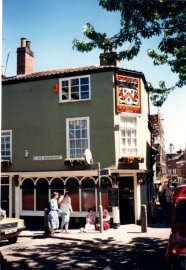 1987

- The main bar WAS a rare gem.
The zinc topped bar was a rare survivor.
The back bar fittings with gilded mirrors offering
Whiskies, Cigars, Brandies, Gin & Rum
were a delight.
.................................................

27th October 2003.
House closed for refurbishment.
The Victorian front bar and rear of bar fittings did not survive.
The name BOLTZ appeared on the new windows at the end of November 2003.
The signs for the IRONMONGERS and NUTS & BOLTS
had disappeared by December 2003

Became MIKE'S July 2008 and then
the IRON HOUSE in early 2011 ("A smart new brasserie")