Licensees :
GEORGE COMAN
1833
SAMUEL JEFFRIES
1836 - 1845
STEPHEN HUBBARD
1848
JAMES BARKER
age 37 in 1851
1850 - 1851
JOHN JOLLY
& cow keeper
by 1854
Licence refused Tuesday 27th August 1867.
Convicted 06.07.1875 of selling out of hours.
Fine £3 plus 18/6d costs.
JOHN JOLLY junior
19.11.1878
HARRY CROWE
16.01.1906
HENRY OATWAY BARKER
13.06.1916
EMILY BARKER
19.11.1918
JOHN POTTER
05.04.1927
HARRIETT POTTER
28.08.1951
CHARLES ROBERT DRAKE
Died 1973
(& wife Lily, nee Potter - died 01.2004)
20.11.1951
BRIAN STANLEY CASON
05.06.1973
TREVOR JOHN WATSON
07.01.1975
RICHARD JOHN EAVES
08.09.1981
CHARLES ARMSTRONG
11.09.1984
WILLIAM BELL
10.09.1985
OLIVE FRANCES BELL
(Polly)
14.02.1995
PETER FRANZ WILDNER &
MAUREEN ANN SMITH
11.11.1997
NICKI HOWARD & JOHN CRAFT
22.04.1998
MICHAELA FRY & RICHARD ROBERTS
23.11.2004
TONI DANIELE FRY
04.09.2010
STEPHEN & KAREN PERILMAN
2014 -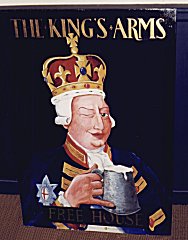 The sign 1998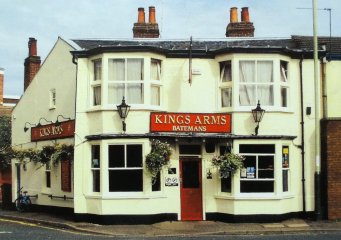 2007
Built 1824.
First licensed 1830
Address as Southwell Street in 1845 & 1854
Sold 1833 by Thomas Cott, pawnbroker, to Charles Crawshay and John Youngs for £545
(Date could possibly be 1855 ?)

For Sale by Auction Tuesday 23rd May 1848.
In occupation of Mr. Stephen Hubbard as tenant to Messrs. Youngs & Burt, under a repairing lease of which three years would be unexpired by Mid Summer, at an apportioned rent of £47.
Comprising a Bar, Porter Room, two Sitting Rooms, Kitchen, Passage, large Club Room, three Bed Rooms and two Cellars.

Known as CHARLIE DRAKES during the time of the popular landlord.
(Chairman of the Norwich & Norfolk Licensed Victuallers Association in 1962)
Lily Drake was the daughter of John & Harriet Potter and married
Charles Drake in 1940. She died in January 2004 at the age of 92.

Purchased from Greene King and closed for refurbishment May 1998 to 10th June 1998.

Soon obtained the distinction of being the Eastern Evening News Pub of the Year and then the CAMRA East Anglian Pub of the Year (1999).

Offers a wide range of traditional ales
with East Anglian brews to the fore.
Over 60 Scottish Malt & Irish whiskies available.
Uniquely offers a place for you to enjoy a locally purchased take-a-way meal. Plates, cutlery & condiments are provided to accompany your meal with refreshments purchased on the premises.

Also caters for TV addicts.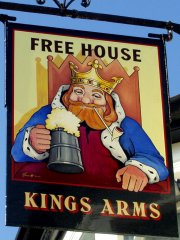 The sign 2003