Licensees :
GERALD ATTOE
from 1975
JOHN PAUL EDWARD ALDHAM
20.07.1976
JULIAN GREGORY ROUX
see opposite
19.10.1983
KEVIN JOHN KINGHAM &
DAVID FROOM
31.10.1989
TERENCE JOHN DOWSON &
SANDRA PORTER
09.07.1991
JOSOPHINE & MALCOLM McCANN
04.02.1992
MALCOLM McCANN
13.01.1998
SANDRA ROSENFIELD &
DARREN LEE BURTON
13.04.1999
SANDRA ROSENFIELD &
PAUL CHRISTOPHER SCHRAM
15.06.1999
SANDRA ROSENFIELD &
HENRY ALEXANDER FERRY
07.03.2000
LISA ATKINS
06.2017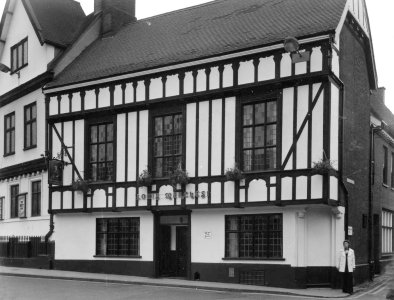 c1976 image by Jack Roberts - via EEN
The
WAGGON & HORSES
to end of 1976
Renamed in honour of the founder of the Round Table Movement.

Julian and Rosemary Roux organised a "Drink the pub dry" event on their final Sunday of trading in October 1989. In conjunction with the UEA Students Union, the proceeds were to be donated to the Big C Cancer Appeal.

Leasehold for sale May 1990 - £110,000.

Reported December 1991 as having had a £30,000 refurbishment and renamed "The Louis"
The LOUIS' UNDERCROFT BAR advertised for hire (£40) in July 1992. (Said to be part of the underground system which once connected to the cathedral).
Closed February 2004 to reopen as the
TAKE FIVE CAFE & BAR


....... But back to the LOUIS MARCHESI June 2017