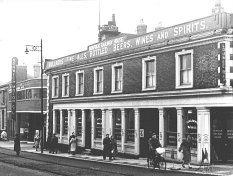 1951
Original building was erected as a toll house for the bridge.
Full licence for the
TOLL-BAR HOUSE
granted at the sessions of **7th September 1847, at the application of Mr. Bullard.
The application had been opposed on the grounds that it was too near the
RAILWAY TAVERN
opposite.
Purchased by Richard Bullard from Norwich Corporation for £430 on 13th January 1851.
Listed as the
TOLL HOUSE
1867
Also found as the
RAILWAY HOUSE

.
Advertised in 1938 as the most modern and up-to-date licensed house in Norwich.
Contained an annex known as the
BLUE ROOMS
or
BAMBOO ROOMS
to 1960's
Harry Proctor was an ex-trainer of Norwich City F.C.
Featured `Go-Go Girl' dancers in the late 1960's
Closed in late 1973 for refurbishment.

Reopened as the COMPLEAT ANGLER March 1st 1974.

Became WINDSORS 1984 - 1988
then back to the COMPLEAT ANGLER