Watney Mann acquired the buildings that were previously Morgans Brewery in August 1961.
The separate company Watney Mann (East Anglia) Ltd carried out brewing from April 1962.

Following the acquisition of the remaining independent Norwich breweries, Bullards and Steward & Patteson, Watney Mann announced plans to concentrate all local brewing at the former Morgans Brewery site in King Street in July 1969. The brewery was extensively modernised between 1969 and 1971.

Production was geared to keg beer including Norwich Bitter and Norwich Mild - not to mention the infamous Starlight.

About that period the breweries of Bullards (1968) and S&P (1970) were finally closed down.

In 1970 a new building was erected to house a continuous fermenting plant, it was erected on the site of the original brewhouse.

Grand Metropolitan Hotels took full control of Watney Mann in 1972.

The Norwich Brewery Company was formed in 1976
and an attempt was made to reproduce the cask conditioned ales that had disappeared with the demise of the other local breweries.

In 1984 S&P Bitter appeared in Norfolk houses alongside Bullards Mild which had been introduced in 1981.

With countrywide lager sales increasing it was decided that the King Street premises could not meet future demand and closure was announced 12th January 1985.
Production ceased at the end of April 1985.
155 jobs were lost.

The last S&P Bitter was sold in December 1987.
Brewed in Wiltshire since 1985, S&P Bitter was said to be inconsistent and was to be replaced with Ruddles Best.


The brewery was completely demolished around the year 2005.
So ending a 400 year old tradition of brewing in the area.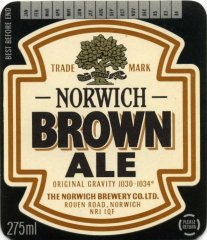 Following the Mergers & Monopolies Commission report of 1989, Manns and Norwich Brewery transferred its leases to the Inntrepeneur brand.