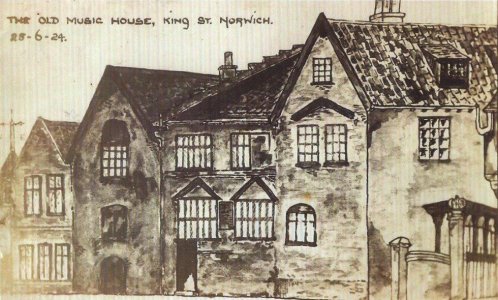 1924 image in pen and ink by George Steward, son of licensees George & Emily Steward (at house 1902 to 1926). Thanks to Frank Steward, g-grandson of George & Emily for providing the image.

Built in the 12thC as a `private' dwelling.
Owned in 1487 by Sir John Paston and
from 1584 by Sir Edward Coke.
The King Street Wharf, known as Harrison's Wharf, including two Excellent Dwelling Houses, Four Cottages for Workmen, Warehouses, Granaries and the very Substantial and Well-accustomed Public House called the
MUSIC HOUSE
, was offered for sale by auction, in One Lot, on Tuesday 7th April 1846.
"No other Estate in Norwich offering the potential for development, it being highly likely that the Norwich River is to be developed and made navigable for sea borne vessels of considerable burthen....... A perfect site for Bonding Warehouses."
On Wednesday 25th April 1866, licensee George Bush appeared before the magistrates accused of selling beer, during prohibited hours.
Police-constable Hendry heard persons talking in the house at about a quarter past four on Sunday 22nd April 1866. Knocking on the locked door, the constable was immediately admitted, where he saw William Lock and a woman seated at a table with a pint mug and a glass of beer before them. Claiming that he was perfectly entitled to freely entertain friends, Bush offered the constable a glass of ale and asked that he forget about the matter.
The case of `Tennant v. Cumberland' was quoted in support of the statement that Bush had acted within the law and supported by evidence from his friend William Lock, the case was dismissed.
Offered To Let 25th July 1896, with Full Licence.
Situated next the Crown Brewery.
Apply Youngs, Crawshay & Youngs, Norwich.
Reputed to be the oldest (surviving) house in Norwich.

Housed the Architectural offices of Youngs, Crawshay & Youngs in early 1900's.
Licence provisionally refused 09.02.1932 on referred for Compensation.
Closed under Compensation 12.11.1932.

Became Wensum Lodge educational centre.