Known to be in existence before 1819.
A sale of nearby cottages was held here according to the Norfolk Chronicle of 17.08.1819, address given as Lakenham Lane.
Address as City Road in 1845.
As at Front Row, Hall Lane 8 in 1851 census.
Melville names the house
SOUTHGATE HOUSE
at Front Row in 1856.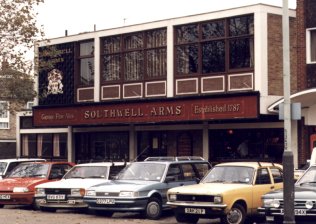 November 1987 - Image by Barry Wilkinson.
Rebuilt in 1961 by Berry Crane & Noble at a cost of 7.9 shillings per cubic foot.
Closed 16th January 1993
Licence surrendered 25.01.1993
Became a Pool Club, later a shop.