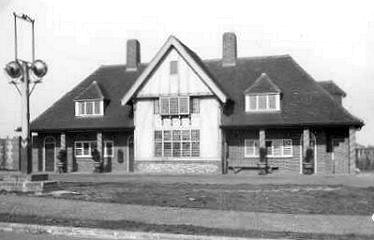 08.04.1933
Image by George Plunkett - shown by permission - Copyright © G.A.F.Plunkett 2002
Licence of the
BUTCHERS ARMS
, Ber Street, transferred 10.03.1931.
A drive through restaurant, built on the car park, was proposed by Grand Metropolitan Estates October 1989. It was claimed that the pub's large function room and car park had not been used to their full potential. Loss of the function room would increase the viability of the pub. House then said to be on a short term lease to a management company, having changed hands in the summer.
A reported £100,000 facelift carried out 1991 including £7,000 on a play area.
Re-opened by Miss Beautiful Eyes, 1991, Tiffany Stanford, 11th April 1991.
Closed without warning 11th February 1992. Owners Grand Metropolitan Estates said the sudden closure was regrettable.
Known as
FRANCO'S PARADISE GARDENS
from re-opening July 1992,
but back to the
TUCKSWOOD
by August 1993.
On the final day of trading the remaining stocks of beer were sold at 95p per pint and spirits at 75p a shot.
Closed 5th February 1995 and demolished by April 1995 to make way for a burger bar and car wash.