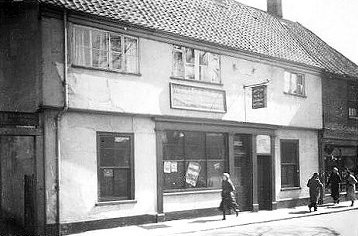 09.04.1936
Image by George Plunkett - shown by permission - Copyright © G.A.F.Plunkett 2002
The
WHIP & EGG
to at least 1845.
Location given 1822 at Tooley Street.
Found 1845 as Near the Church.
On the night of 29th November 1883 Police-constable Scales saw fifteen to twenty people inside the house, some were drinking, others had glasses in their hands. This was at 11:25 p.m.
As soon as the constable was spotted, the lights were extinguished and all the persons managed to escape in the darkness, with the exception of a man named Want.
Landlord James Pitchers was fined £10 and 47s costs and allowed one week to pay. Mr. Want was fined £1 and costs of 7s or in default, seven days.
On Thursday 9th February 1905 the Chief Constable objected to licence renewal owing to the back doors opening into enclosed yards common to other tenements.
However the objection was withdrawn since alterations had already been made to alleviate the problem, the licence granted.
Damaged by enemy action 27/29.04.1942.
613/4 barrels of beer sold in the final year of trading.
Closed 22nd March 1957 according to S&P records.
Licence held by S&P.

Premises officially closed February 1960 according to licence registers.
(Licence still valid to 1964 when not renewed).