Licensees :
EDWARD PARTRIDGE
(died 1884)
30.08.1878
HARRIET PARTRIDGE
(Wife of Edward - Nee Baldwin
re-married A Dashwood September 1890)
18.11.1884
ALFRED JOHN DASHWOOD
died 1907
10.10.1890
HARRIET DASHWOOD
05.04.1907
JAMES MAIDMENT
07.05.1907
ALBERT GEORGE PLANE
b.1871 d.1922 - See opposite.

06.04.1908
Convicted 28.07.1916 of refusing to admit Police.
Fine 20/- or 13 days detention.
MARY ELIZABETH PLANE
25.07.1922
WILLIAM FRANK HOPES
10.10.1922
WALTER ERNEST JOHNSON
05.04.1927
ALBERT VICTOR THACKER (Tracker ?)
16.10.1934
JAMES IRVING SEXTON
16.06.1936
Convicted 17.03.1937 of allowing consumption out of hours.
Fine £1
JOHN KITCHENER LOVEDAY
03.01.1950
DAVID HUGH JONES
21.11.1978
JULIE ROSE JONES
10.06.1980
SHAUN PATRICK SULLIVAN
05.01.1988
S P SULLIVAN & PETER JAMES TURNER
04.04.1989
JOSEPH & JOSEPHINE VERRETT
04.02.1992
J & J VERRETT and LORRIANE CLEMENTS
14.02.1995
JOSEPH, JOSEPHINE & JOANNE VERRETT
14.02.1998
DAVID THOMAS
13.12.2000
ALYSSA & REINA O'REILLY
May 2004
SIMON CODLING
08.2004
ANDY BOULTON
08.2006 - October 2014
RUSSELL EVANS &
JOHN LINFORD
(Manager Matt Peplow)
18 December 2014
JIM YOUNGS
general manager
to closure 01.2019
-
ANDREW & ANNA McNEIL
by 10.2019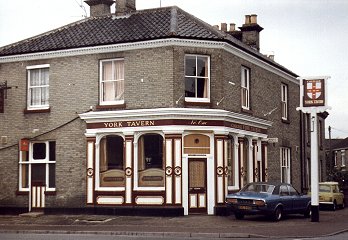 1986

Address also given as at the corner of
Leicester Street and Onley Street.


First licensed 30.08.1878, upon removal of licence from the OLD RESTAURANT, St. Peter Mancroft.

Also found as the YORK ARMS

Alfred Dashwood applied, on Monday 24th August 1891, for a music and singing licence for the club-room - Granted.

In May 1922 it was reported that Albert Plane had been found dead at at the foot of the stairs, having got up to get his family cups of tea. He had suffered from influenza and was affected by the heat.

Micro brewery operating at rear of premises in 1996
`Old Duke' a 3.8% bitter being produced in May 1996



Suddenly closed 18th October 2014 `owing to external wall to beer garden requiring extensive repair and insufficient funds available to do the rebuild. ' Cost to rebuild wall said to be £20,000......some wall.

Closure reported as permanent..........

......... but new lease agreed December 2014 and house to re-open for Christmas trade.

Re-opened 24th December 2014.

Closure in January 2019 likely as reported September 2018 owing to negotiations for a new 20 year lease breaking down.

Closed Friday 4th January 2019.
Reopened evening of Monday 3rd June 2019 with temporary managers.

Official reopening with new managers weekend of 6th October 2019.