Licensees :
-
WILLIAM GRIFFITHS
to October 1780
JOHN COOPER
(deceased, late master of the Queens Head Tavern, May 1782)
undated
............. BIRT
1786
JOSEPH BIRT
1789 - 1803
JOHN NEWSTEAD
by 1812 to 1816?
ROBERT ENGLAND
1832 - 1836
SARAH COX
age 50
(George England living at house, age 15)
1841
GEORGE ENGLAND
1845 - 1850
FREDERICK REEVE (age 16)
Head & innkeeper in absence of brother.
* 1851
CHARLES REEVE
1854
EDWARD SAUL
1856
CHARLES HINCHCLIFFE
age 36 in 1861
1858 - 1863
GEORGE BILSDON
1864 - 1865
GEORGE MASON
1868 - 1872
SUSAN HINCHCLIFFE
1875 to 1881
WILLIAM PEARCE
21.11.1881
HARRIET PEARCE
12.11.1888
WILLIAM PEARCE
27.01.1896
EDWARD COLE
10.09.1907
ARTHUR ALBERT WARNER
09.09.1907
GEORGE ALFRED BECK
04.05.1908
Fine £2 plus 4/- costs or 1 Month detention for
permitting drunkenness - 31.01.1911
ERNEST BULLARD
22.05.1911
SAMUEL WILLIAM RICHMOND
11.09.1911
HARRY BIRRELL FOOTE
05.09.1921
Fine £2 for selling out of hours - 12.08.1929
FREDERICK JOSEPH WINTER
04.11.1929
ALBERT DUNNELL
28.11.1932
JAMES WILLIAM THOMAS
17.08.1936
BENJAMIN FREDERICK BIRD
10.08.1942
FREDERICK GLADSTONE GOOCH
16.11.1942
SAMUEL JOHN SHEARS
05.03.1956
THOMAS GOULDING
23.05.1961
FRANK CHAPMAN
06.04.1964
DOROTHY MARY MAY CHAPMAN
09.01.1967
IVOR RONALD HILLIER
07.08.1967
to 1973+
-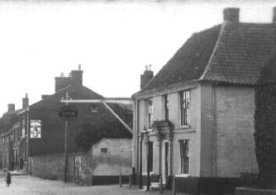 1904

Mentioned in Sylas Neville's diary 1771
and in Parson Woodforde's diary 1786.

Recorded in Register of Blofield, Taverham & Walsham Hundred licensed houses taken 9th September 1789.
Commercial Hotel & Posting House.

For Sale by Auction during August 1812.
Proprietor John Newstead intending to retire.

For Sale by Auction Tuesday 25th April 1815 by order of the Assignees of John Newstead, a Bankrupt.
Then under a lease of which Twelve years would be unexpired at Michaelmas 1815.

Mr. Newstead, advised his friends and the public in general that he had moved to the Feathers Inn & Livery Stables at Great Yarmouth and humbly solicited their continuance of patronage....... 13th July 1816.

For sale by auction Saturday 3rd April 1847.
Established for a century and in full trade.
With two parlours, bar, keeping-room, large room capable of dining 60 persons, having shifting partitions, making occasional sitting and bed-rooms, seven principal bed-rooms, four attics, convenient kitchen, store-room, pantry, scullery and offices. Also capital arched wine cellar, beer, spirit and coal cellars. A spacious Yard with Stabling for 40 horses, Hay-lofts, Postillions' Chambers, Harness and other Houses, Laundry and Dairy. The Business of the Post Office having been carried out for some years.
Closed by Watney Mann (East Anglia) Ltd 18.09.1975
Became Shop & Offices.

See p69 `The Norfolk Broads In Old Postcards' - Basil Gowen. pub. 1990