Licensees :
EPHRAIM WILLIAM JOHN WITARD
06.02.1926
FREDERICK ALFRED D'AUBIGNE EDWARDS
(Known as Alfred - died December 1952)
27.09.1947
DOROTHY ELIZABETH MARY EDWARDS
07.02.1953
WILLIAM SMITH
26.05.1955
-
-
KEVIN STEWARD &
ANNETTE ALDRIDGE
March 2013 - June 2013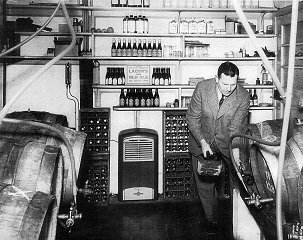 Alfred Edwards in the ground floor cellar.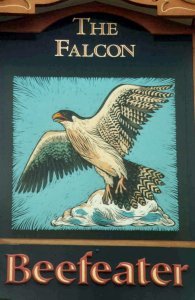 The sign in 1993 - Image by Steve Shaw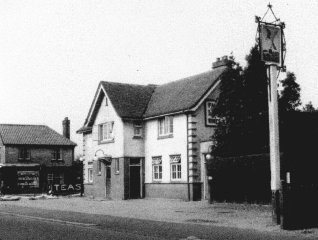 The Falcon - c1960

Opened 1926 as the FALCON HOTEL.
The licence of the KINGS HEAD, Salhouse was removed to these premises and the licence of the JOLLY BUTCHERS, St. Faiths was surrendered.

Address as Upper Hellesdon 1937

The Falcon Bowling Club had a season long club competition played on Monday evenings for a trophy which was called the Mascot Cup, it having been presented to the club by customer who was also the owner of a local coach firm - Mascot Coaches.
The cup was won in 1952 by Derek Edwards, the son of licensees Alfred & Dorothy.
The bowling green survived to at least 1973
The Falcon Bowling Club was well known.

The house also supported a successful team in the Lacons Dart League and teams in the Norwich & District Table Tennis League.
BEEFEATER STEAK HOUSE from 1970's.

Internally refurbished over several weeks to reopen Thursday 19th October 2000
Closed June 2011
Refurbished.
Reopened 30th July 2011
Closed 2013
Reopened March 2013
Closed June 2013

Planning approval granted 1st July 2014 to convert into ` Convenience Store'.
Closure of `Supermarket' on 6th July, announced 20th June 2018.