Licensees :
ROBERT OLLYET see below
to October 1782
JOSEPH BELL
(ex Thatched House Brinton)
05.02.1783 - 1794
.
Mrs MASTERS
to October 1820
WILLIAM UNGLESS / UNGLAS
from October 1820 - 1826 +
-
JOHN DOBSON HARRIS
(Died Saturday 23rd August 1834 - age 43)
1830 - 1834
SARAH HARRIS
age 35 in 1841
1834 - 1841
JOHN DAVIDSON
1845
WILLIAM LEEDS junior
(senior at SUN)
1846 - 1854
JOHN BUSH
& postmaster
1856 - 1858
DANIEL BUSH
& small farmer
Age 41 in 1861
1861 - 1869
THOMAS DICKERSON
Age 46 in 1871
15.11.1869 - 1871
M. D. WELDON
by 11.1873
JOHN BADCOCK
by 1875
JONATHAN GEDGE
10.12.1879
JOHN HENRY WITTING / WHITTING
13.03.1882
FRANK BOGGIS KING
11.06.1883
GEORGE EARL
also as Earle
21.12.1885
FREDERICK BURTON
03.11.1890
ALLAN BOYLE
14.03.1892
WILLIAM GEORGE KING
Age 61 in 1911
26.03.1900
JAMES JOHN DIXON
06.01.1913
GEORGE HUBBARD
25.09.1915
EDGAR GRAY
06.05.1933
JAMES PATRICK DEVLIN
02.05.1938
MONTAGUE MALCOLM BISHOP
17.04.1939
Fines 01.03.1937 of 19/- for supply of intoxicating liquor during non permitted hours and 5/- for aiding and abetting consumption during such hours.
JAMES HAGGERTY
22.10.1951
GEORGE WILLIAM CHIPPERFIELD
01.11.1965
PAT CHIPPERFIELD
by 1987
-
BARBARA ROBERTS
May 1992
PETER SALISBURY
from 1994 to 2018
MARK ARMITAGE &
LYNETTE TILLEY
01.05.2018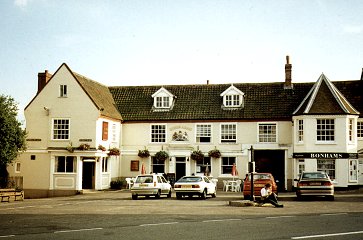 1998

Dates from 1667

The Eynsford Hundred Society for Apprehending and Convicting Horse Stealers met here Wednesday 16th June 1779. Dinner at Two o'clock being provided by the Society.

The Reepham Society for apprehending and convicting Horse Stealers held their Anniversary Meeting here Wednesday 26th July 1786. Dinner, at the expence of the Society, would be on the table at Two o'clock.

Reepham Petty Sessions, for the Eynsford Hundred, for the hiring and retaining of servants were held here Monday 3rd October 1791.

W. Unglas announced 21st October 1820 that he had taken over from Mrs Masters and looked to his friends for support.

Mr. Coke's birthday was celebrated here Wednesday 9th May 1821.
Dinner would be on the table at precisely Four o'clock.
Tickets were Twelve Shillings Each and none would be issued after Saturday 5th May. (Equivalent to about £470 each in labour costs 2015)

5th May 1821 - Mr. Ungless thanked his friends and customers for their kind encouragement since he had taken the establishment.

Mr. William Ungless announced October 1826 that he would be attending the St. Faiths Fair and had taken the Bullock Booth where he would be attending daily with Good Ordinary and Superior Old Wines, at Reasonable Prices.

The Glee & Madrigal Society (lately formed) met at the KINGS ARMS on Monday 27th September 1861 by invitation of Robert Leamon Esq. and at his expense. Mrs Bush furnished the excellent repast.

The KINGS ARMS Bowling Green opened for the Season on Thursday 2nd May 1869. Mr & Mrs Bush provided a substantial tea following an afternoon when some very spirited games were played. In the evening some twenty members joined in song, toast and sentiment.

The 12th Norfolk (Reepham) Volunteers held their annual dinner here on Monday 20th June 1870. Mr. Dickerson provided a well-furnished table. Soldier-like discipline and perfect harmony characterised the evening's proceedings.


To Let with Immediate Possession, October 1873.
With Stables, Coach-houses, Bowling Green and Garden, Barn and large Market Yard in which Messrs. Ireland's Sales are carried on.
With 14 acres of excellent Land.
Furniture of the outgoing Tenant to be taken at valuation. All Fixtures belong to the Landlord.
Apply to Messrs. Bircham & Sons, Reepham Brewery.

M. D. Weldon advised 29th November 1873, that having taken the Inn, he solicited the continuance of the Patronage of the Clergy, Gentry and the Public in general of Reepham and its vicinity.

Advertised To Let, 18th July 1874 with Possession from Michaelmas, in consequence of the tenant having taken a Farm in another part of the County.
Lot No. 3 in the sale of the Reepham Brewery Estate of Bircham & Sons, Saturday 8th June 1878. Then let to John Badcock at an annual rent of £60. Containing :- 4 Attics on upper floor, 5 Bedrooms on first floor & Large Club Room with moveable partition forming an Extra Bedroom : On the ground floor - Large Market Room, Good Kitchen, 2 Pantries, Paved Wash House & Store Room, Bar, Bar Parlour & Commercial Room; Good Cellars under, Yard at rear with Harness Room, 3 Horse Stable with Rooms over ; Carriage Lodge, Coal House, 6 Stalled Stable with Loft and Manure Pit behind ; 2 Loose Boxes & stand for 3 horses with Loft over & Lock Up Coach House - Including a detached Garden & Bowling Green - The adjoining house & Shop (Post Office) let at an annual rent of £12 per annum, also included in the lot. - Freehold - Purchased by Bullard.
Also given as the KINGS ARMS HOTEL.

Commercial Inn & Posting House & Inland Revenue Office
(as given from 1850)