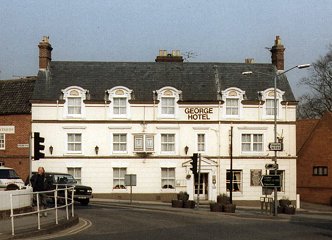 1998
John Campa, late servant to Henry Payton was announced in the Norfolk Chronicle of 16th March 1776 as to enter the house `On Lady Day next...' (25th March).
~
William Craske, late
Hostler
at the
CROWN INN
announced 29th December 1780 that he had taken the Inn, lately occupied by William Ram.
~
The Bury & Norwich Post of Wednesday 19th October 1803 carried the announcement that the premises were to be let and entered upon immediately.....
`Desirably situated at Swaffham, with stabling and every other necessary convenience; also a piece of pasture land, all in the occupation of Mr Baker, who is going to decline the public line of business'
The premises were then owned by Messrs. C P Herbert & Co, Setch Brewery.
~
Offered for sale March 1807, with possession Michaelmas. Apply to Mr. Dugmore, Swaffham.
~
For Sale by Auction Tuesday, 14th May 1811, with about three acres of Pasture Land. In occupation of Mary Hyde.
Sale due to the bankruptcy of Messrs. Blackburne and Bonner.
On 19th September 1835, John Bunton thanked his numerous Friends and the Public generally for their liberal patronage and announced that he had relinquished the Inn in favour of Mr. William Boyce.
~
As the
GEORGE INN
1836
Also as the
GEORGE & DRAGON
in the Licence Registers.
Address also given as the Crossways.

Included within Lot No. 1 in sale by order of the Trustees of the late John Morse esq. held 8th & 9th September 1847.
The property included :-
2 Front Parlours, Commercial Room, Bar Parlour, Bar, 2 Kitchens, Tap Room, Wine & Beer Cellars, Store room, Pantry, Dining Room, 9 Bedrooms, plus Large Yard containing 6 Stables, Hay Lofts, Coach & Gig Houses, Pumps & Reservoir.