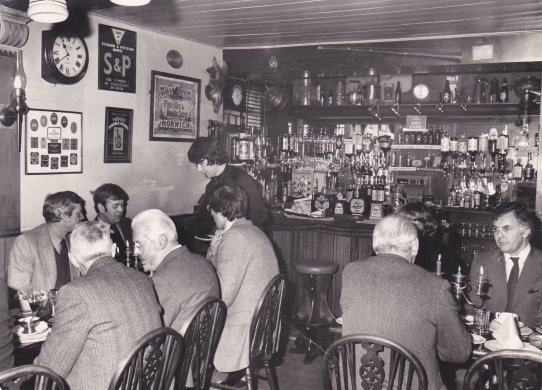 Bar of the Kings Head c1975.
Image thanks to Baden Gooch.

Said to date from 1650.
Included a bowling green.
Offered
To Lett
Saturday 8th October 1785.
Availably for entry Monday 11th October 1785 - A large commodious house with large garden. Enquire of Mr. Jackson's Brewing Office in King Street, Norwich.
Recorded in Register of Blofield, Taverham & Walsham Hundred licensed houses taken 9th September 1789.
William Provart invited his Friends to a Wine and Dessert Party to be held from 5pm on Thursday 9th November 1848. Admission 3s 6d.
George Bailey, previously at the Star Hotel, Lowestoft, informed the Nobility, Gentry and Public that he had entered the Inn -11th November 1854.
Offered To Let August 1865, with Pleasure Gardens, good Stabling and Lock-up Coach-house.
Apply Messrs. Steward, Patteson, Finch and Co, Brewers, Norwich.
``Beer from the bottle, and beer from the wood,
If it is S&P it is sure to be good'' - 1938 advert.
Damaged by enemy action 29.09.1944.
Extension for restaurant funded by Whitbread 1996.