Licensees :
WILLIAM BRINDED
1789
-
-
JAMES SMITH
1830
JOSEPH SMITH
& coal dealer 1850
age 53 in 1851
& gardener
1836 - 1861
Mrs M. A. SMITH
1865 - 1869
PHILIP FROST
& brickmaker
by 1871
FREDERICK WILLIAM TIBBS
10.07.1876
WILLIAM JAMES HARPER
& coal merchant
by 1877
Mrs CATHERINE HARPER
by 1888
WALTER ALFRED MOORE
22.11.1915
WALTER PERCY MOORE
(Wally)
26.11.1934
to c1950
TED & DAPHNE RUTTER
(Went to Coach & Horses, Thorpe Road)
to 1964
JACK & CONNIE QUINNEY
from 1964
PATSY DASHWOOD
1982 - June 2005
VANESSA MARTIN & PETER SCOTT
From June 2005
Closed
2008
DAVE TUMBER
October 2010
Closed
Aug - Nov 2014
RUSSELL EVANS &
JOHN LINFORD
(LAURENCE KITSON - manager)
Dec 2014 - 22.10.2017
EMMA BULLOCK
manager
11.2017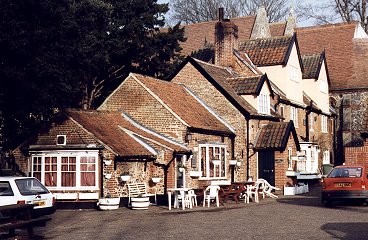 1998
.
Grade II listed building said to date from 12thC.
Recorded in Register of Blofield, Taverham & Walsham Hundred licensed houses taken 9th September 1789.
Renovated internally 2005.
Features :-
Beer garden.
Food.
October 2017 - Enterprise Inns, trading as the Ei Group, terminate the tenancy at will of the current licensee(s) and house to close Sunday 22nd October. Ei Group state their intention "to re-open the house as soon as possible".

November 2017 - To re-open Friday 24th November 2017 with new tenants.