Licensees :
-
MILES STANDLEY
1794
-
JOHN MILLER
1822
THOMAS KIDDELL
1830
ROBERT NEALE
1836 - 1846
ELIZABETH NEALE
age 46 in 1851
1850 - 1854
EDWARD WRIGHT
1856 - 1858
LAZARUS BLAZEY
Age 58 in 1861
1861 - 1864
BENJAMIN HOY
1865 - 1872
ALFRED TIMOTHY FALGATE
1875
WILLIAM SMITH
1879 - 1892
HERBERT LANE
previously at the QUEEN ANNE, Norwich
by August 1895
HORACE G. WEBB
1896 - 1900
RICHARD GRANT
1904 - 1912
RICHARD ALFRED YOUNG
1916 - 1937
-
....... THURSTON
c1962
TERRY NICHOLLS
c1966
BRENDA & GEORGE GILL
1973 - 1975
-
MARY & STEVE BELL
c1983 - 1998
ELAINE BALDWIN
11.1998
DAVID CHAPMAN
1999
-
-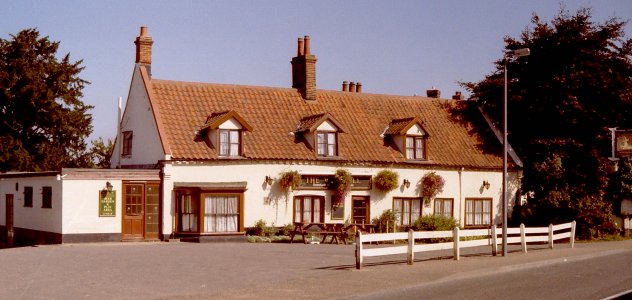 September 1995
A 15thC coaching inn.
Left by landowner Thomas Randall to his grandsons in 1738, one of several houses in his estate.
Address as Bridewell Street in 1830.
Named the
WINDMILL SAILS
1846 & 1851 and in a conveyance dated 26th May 1876.
Morgans sales for 1960 were :-
12 barrels of beer.
27 spirits.

Offered for sale August 2012 and described as a property of about 2,871 sq. feet on 0.68 acres. Including large trading area and car park.

Proposals announced December 2012 included demolition and development of site for housing.