Licensees :
ELIJAH COLE
Died March 1885 - age 61

Sept 1860 - 1883
Licence application refused 04.09.1860
Licence application refused 30.08.1861
Licence application refused 1862
Licence application refused 25.08.1863
Licence application refused 30.08.1864
Liquor licence application refused 29.08.1865
ROBERT JAMES AGGAS
Age 43 in 1891
03.11.1886
Application for a full licence refused Monday 22nd August 1887
HERBERT FREDERICK CROSS
10.10.1896
SAMUEL ABLETT
20.06.1899
WILLIAM UTTING
28.11.1905
REGINALD ALBERT BERTRAM DESBOROUGH
14.01.1913
WILLIAM FRANCIS MITCHELL
12.06.1917
Convicted 15.03.1927 of failing to admit the police.
Fine £3 or 21 days.
Convicted 03.09.1927 of selling out of hours.
Fine £2 or 21 days detention.
ERNEST CLARKE WILLIAMSON
04.10.1927
THOMAS FREDERICK COPEMAN
30.12.1958
ETHEL MAUD COPEMAN
08.06.1965
WALTER FARE TALLENT
20.07.1965
PERCY EDGAR RUSH
05.01.1971
SYDNEY CHARLES BUTTERS
08.06.1971
DONALD PATTERSON NIGHTINGALE
23.11.1971
JOHN AMHURST &
DONALD PATTERSON NIGHTINGALE
06.06.1972
MALCOLM THOMAS GREAVES
02.09.1975
TREVOR READ
20.03.1979
KENNETH DAVID WYKES &
CLEMENT JAMES HOLDEN
09.02.1982
ALAN PARKER
26.03.1985
ANDREW GORDON ROBERTSON
23.07.1985
MARGARET ROBERTSON
22.03.1994
SIMON GEORGE GOODINGS &
ANTHONY KENNETH MILLS
15.06.1999
(ANTHONY MILLS)
(to December 2008)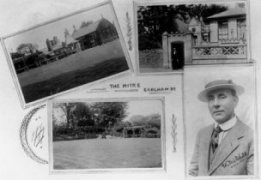 Views of the original Mitre during the service of William Mitchell c1920.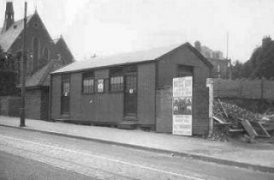 The temporary Mitre - 12.06.1932
Image by George Plunkett - shown by permission - Copyright © G.A.F.Plunkett 2002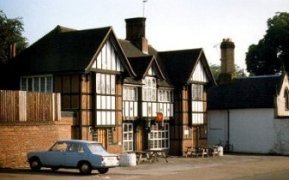 1985 - Curfew Cottage to the right - see below.
The Mitre Cottage, a Gothic Dwelling House, was offered for Sale by Auction Thursday 16th June 1859. Described as well suited for a genteel family desirous of seeking a Residence combining the advantages of the country with the conveniences of the city, built regardless of expense and with great taste. Included a 15ft square Drawing Room, six Bed-rooms, about 43 rods of garden ground, a Gardeners Cottage with three rooms and a pump on the premises.
~

Before the Mayor on Thursday 30th May 1861, Elijah Cole was questioned as to why he should not contribute towards the maintenance of his mother and father, who were in the Norwich Workhouse. The Court of Guardians reported that he had laid out £700 or £800 in opening his beerhouse on the Earlham Road (having failed to obtain a spirit licence). When it was heard that Mr. Cole had mortgaged the property to within £150 of its value and had a wife and six children to support from the lowly takings of the beerhouse, the Guardians decided not to press case and the charges were withdrawn.
At the Licensing Sessions held Tuesday 4th September 1860, Elijah Cole applied for a new licence for the house he had recently purchased.
Local opinion was that the house was not needed and it was even then quite disgraceful to see hearse drivers leave the New Cemetery and adjourn to the nearest public house until the mourners were ready to return. (BLACK HORSE ?) Twenty* local inhabitants signed a memorial in favour of the application and the Reverend G. C. Hoste and a numerous body of parishioners (about sixty) signed one against.
Mr. Cole had purchased Mitre Cottage and garden from Mr. J. Norgate for £750. The adjoining house <Curfew Cottage?> belonged to the parish of St. Giles and had been leased to Mr. Norgate. It was said to be detrimental to that dwelling if the adjoining house was to become a public house and pleasure gardens.
Application unanimously refused.
* Another report of the proceedings claimed thirty people had signed the petition in favour.
At the Licensing Sessions held 29th August 1865 it was heard that Mr. Cole had previously run a house on the Castle Meadow (WHEATSHEAF) and conducted it in an improper manner. The conduct at this house was not what it could be.

At the Brewster Sessions Monday 22nd August 1887 the Chief Constable described the licensee, Mr. Aggas, as of good character and had no fault to find with the management of the house. Messrs. Bullards said that they had purchased the house during the previous year and had spent several hundred pounds in improvements. If a full licence were to be granted then they would surrender the full licence of the CORN EXCHANGE .
In spite of a memorial in support, signed by 150 persons, the Bench refused the application for a full licence. (It was stated that there were 643 licensed houses in Norwich, which was quite sufficient.)

At the Norwich Licensing Session held Friday 24th August 1900 it was heard that the house had been enlarged by a club-room, 22 feet by 33 feet and a smaller room being added. The the owners said that the alterations at the Mitre were so small that it had not been thought necessary to present plans.

Closed and operating as a Chinese Restaurant by February 2011.

For sale October 2015.