Licensees :
JAMES FIDDAMAN
from 1852
WILLIAM NICHOLLS
07.04.1884
Licence temporarily transferred to Thomas Campbell Monday 3rd September 1906 owing to the death of William Nicholls.
THOMAS CAMPBELL
08.10.1906
HERBERT WILLIAM FINBOW
07.07.1919
LESLIE HERBERT GIBSON
07.07.1947
to at least 1965
ALFRED ADAMS (Alfie)
undated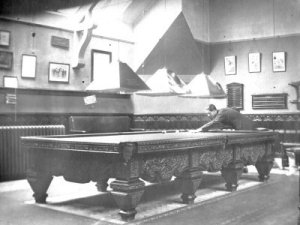 Collins Webber Langwade at the billiard table c1925.
At age 15 Collins Langwade entered the service of Messrs Nicholls and Campbell as a billiard marker at Fiddaman's Hotel.
He became Hotel Manager 1942 - 1955, having served in WW1

At some time he played an exhibition billiards match against Walter Inman who was a national champion of the time.
In 1953 Mr Langwade said of trade ...''it did not compare with that of the good old days......Prices are about three times higher than they were and people just have not got the money to spend.'' Mr Langwade remembered when gin and whiskey could be had for 4d a glass and beer was 4d a pint
Thanks to Michael Langwade for the further information and image.